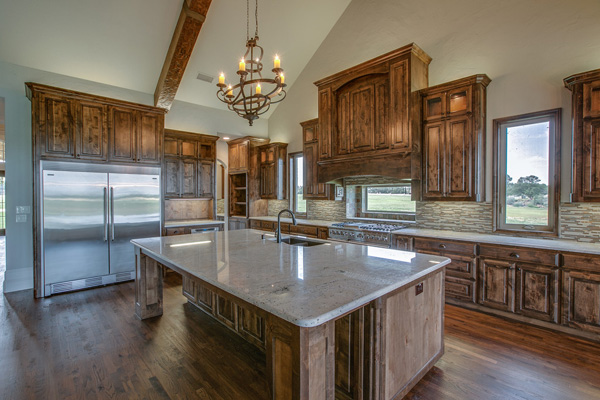 For most of us, many childhood memories are those of being at grandma's house, wonderful aromas wafting through the kitchen. As trusted Flower Mound customer home builders for more than 30 years, we realize the importance of the 'perfect kitchen.' Considering it is the most-used room in a home and where families often 'hang out,' it's important that your kitchen is the one you've always dreamed of.
What should your dream kitchen consist of? Anything you desire, really. Here are a few ideas that may spark your creativity:
Gleaming white cabinetry and stainless steel appliances. Today, many homeowners desire a look that's clean and uncluttered. White cabinetry brightens the room, and gives the kitchen a look of spaciousness.
Islands designed for seating. The perfect place for visiting with the cook, islands in today's kitchens are designed both for additional countertop space and seating of your audience while you prepare those sumptuous, mouth-watering dishes.
Sinks in unexpected places. Traditionally, many kitchens in homes of decades-past offered a kitchen sink under a window looking out over the front or back yard. Today, the sink is often the primary focal point of the room, often situated so that whoever is washing dishes can face the family room, either to carry on a conversation with guests or view the television. Apron-front sinks are hugely popular, and come in a wide array of options from the classic white with iconic design, to those fashioned for homeowners who prefer a more sleek, contemporary look.
Of course, the main reason for building a custom home in the North Texas communities of Highland Village, Flower Mound, or Denton County altogether, is so that you can enjoy a home designed to your unique needs and design preferences! When it comes to your dream kitchen, your own ideas are what really count, and will provide you happiness for years.
Count on Bud Bartley Family of Builders if you're considering a custom home in the Dallas-Ft.Worth metro area. We've been delivering beautiful, quality homes to satisfied homeowners for decades!