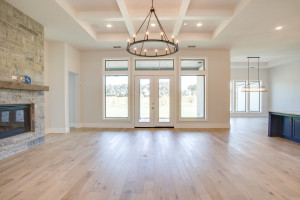 Just like everything else in design, flooring has changed over the years. If you're having a custom home built in Flower Mound, Argyle, or anywhere in the Dallas area, it's important to know your options, as flooring is one of the most important features of your home in terms of beauty and functionality. Naturally you want to stay within budget, but the floors you choose also help pull the entire room together – it's an integral component of your overall design scheme.
We've listed some of the most popular flooring options below, and the pros and cons of each.
Hardwood floors integrate easily with any style, and are available in several finishes so you can choose the color and material best suited to your needs. Today's hardwood floors are durable and more resistant to damage that can occur as a result of temperature changes and humidity, and they're easy to clean. Engineered hardwood is a highly popular option, and extremely durable even in high-traffic areas. Most people don't use solid hardwood floors in bathrooms because of the moisture, water, etc.
Carpet. Although not as popular as it once was, carpet is still used by many homeowners who enjoy the warm, cozy feeling carpet offers, along with its ability to keep noise to a minimum. If you do decide on carpet for various rooms in your home, be sure it's high quality so it will wear well over the years. The biggest drawback with carpet is the dust, dirt, and pet dander it collects, which could be a problem for family members with asthma, allergies, or other respiratory conditions.
Stone and tile. Whether you choose tile planks that offer the look and feel of wood or porcelain tile, ceramic, antique stone, or any of the other countless options available today; tile and stone are durable and rugged, standing up well to kids, pets, and nearly anything you can throw at it. The great thing about stone and tile is the endless array of patterns, colors, textures, and styles you'll find – which can make choosing tough!
Laminate flooring. If mopping isn't your thing, laminate floors are ideal and great for those with pets. Depending on the style you choose, laminate can mimic the look and feel of authentic wood floors, or even stone or brick. While you'll need to damp mop occasionally, most of the clean-up can be accomplished with a broom, vacuum, or Swiffer dry sweeper or similar product.
At Bud Bartley Family of Builders, our Dallas-area custom home builders know the importance of flooring that's not only beautiful and integrates seamlessly into your decor scheme, but also durable as well. Count on our team of expert builders to help you with every detail throughout the process; we want to make building your dream home a journey you will enjoy.