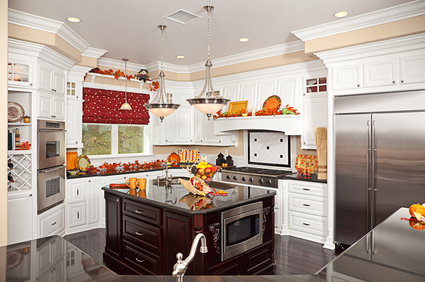 Fall is just around the corner – in fact, it's just a week away! Whether you already live in the Flower Mound area or are about to move in to your new custom built home, fall brings a crispness to the air that inspires. It also brings about the need for fresh decorating, when the summer flowers begin to fade and the leaves are falling from the trees. How to add color and interest to your home in the fall months? Here are a few ideas from our home builders.
Since Flower Mound and the Pumpkin Patch area collide, pumpkins are a natural choice for decorating your porch or entranceway. Line a few pumpkins you've painted or designed with faces up the steps to the porch, or gather pumpkins of all shapes and sizes to sit atop and around a small, decorative hay bale.
Add a wreath to the door decorated in fall colors including gold, orange, red, and yellow shades, along with a more seasonal door mat. Even the small things can make a difference in the curb appeal of your home!
Add a few mums and include cabbage or other green plants that grow in cooler months to break up the beautiful orange, yellow, red, and gold mums. Consider taller planters for your mums and greenery and surround them with lower plants, gourds, and other fall decorations to add depth and interest.
On the lawn, a tilted small wheelbarrow planted with mums as though they are "spilling" out of the wheelbarrow makes a stunning display! An old wooden wagon works well, too.
Here's a unique and fun idea – repaint a ladder that's well worn and use it to display vintage metal lanterns, pumpkins, wicker baskets containing pine cones, folded quilts, anything that lends to the fall atmosphere.
Fall colors are rich and vibrant, perhaps the most beautiful season of the year. If you are looking for ways to spruce up your Flower Mound custom home for the autumn season, hopefully these ideas will help spark a few of your own!
Looking to build a custom home in the Dallas-Ft. Worth metro area? Call the trusted home builders at Bud Bartley Custom Homes today.