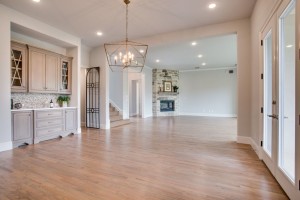 Many people enjoy entertaining family, friends or neighbors. If you entertain on a frequent basis, and are considering a custom Flower Mound home, our builders are sharing some of the most important features that make a home ideal for entertaining.
Make a great first impression with an inviting entryway. Whether you call it the foyer or entryway, this is the first peek visitors get of your home – and one with a big impact. It doesn't have to be super-fancy; in fact, sometimes simple is best, as long as it's functional and attractive. Make sure to include a bench and chair that accent the decor so guests can sit down to remove coats, hats, or other outerwear – and of course, a coat rack or beautiful shelving with pegs for hanging.
Dining areas that offer versatility. Whether lots of guests are coming for the holidays or you're having a large group over to celebrate or just enjoy the evening, it's important to be able to maximize your dining space. Perhaps your kitchen/dining room design should include an island with stools that allow extra space for dining, or your dining room should be large enough to accommodate guests when you choose tables that are extendable. Neutral colors and comfortable furnishings make all the difference as well, as many people today spend a lot of time in the kitchen/dining area.
Comfortable social spaces in the living room. The furniture in your family or living room doesn't have to be "spaced out" to take up space, and in fact, is more inviting and personal when you arrange several seating areas for a cozy, more intimate setting for conversations. When you have company, including men and women who are friends, family, or neighbors, they tend to divide off in groups to mingle. Separate spaces in your living room make visiting and socializing relaxing and enjoyable.
Don't forget the lighting. Whether the lighting in most used living areas is too dark or too bright, you want to create spaces that enhance the mood. In some instances a room that isn't so bright is cozier, in other situations you may prefer a brighter room. From tables lamps and ceiling lighting to sconces, you can actually create "layers" of lighting that are suitable for the situation.
These are a few things you'll want to think about if you love entertaining. At Bud Bartley Family of Builders, our Flower Mound custom home builders are focused on creating the home that's right for you in terms of comfortable, relaxed living and features that enhance your enjoyment, while making your home functional and awe-inspiring to all who enter.