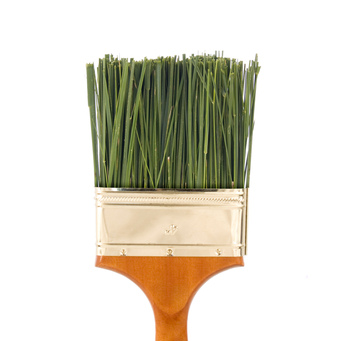 As Dallas custom green homebuilders, we know that today many homeowners are getting involved in the "green" movement, wanting to do what's right for their children and future generations to make the earth a healthier place. There are lots of things homeowners can do to reduce their carbon footprints, such as recycling and building homes that are environmentally friendly. If you are a homeowner who needs to do a little painting to spruce up your home, or simply want to change the color of a room, we have a few eco friendly painting tips we thought you would appreciate.
Choose low or zero VOC paints. Remember the strong smell of wall paint you had to endure years ago? Today's low and zero VOC paints contain less or no volatile organic compounds. Not only is it odor-free, low VOC paints don't contribute to dangerous chemical smells, smog, and even health issues. Many of the most well-known paint brands offer eco-friendly paint selections today; in fact, many have stopped selling paint products containing VOCs.
Low VOC paint dries quickly, so avoid mistakes when possible. Also, it's important to use the right brush or roller for smooth, professional application, particularly on textured walls/ceilings.
Proper storage of low or zero VOC paint. Any leftover or unused paint should be sealed tightly and turned upside down in order to maintain the seal which prevents drying out. Store in an area where the paint won't freeze, such as in a closet or basement. It's also important not to store the paint in extremely high temperatures. By storing properly, you can use the paint at a later date. Any time paint becomes solid or has an unusual order, dispose of it in the proper manner. Never pour leftover paint on the ground, or in a drain.
Proper disposal is important. Even with low or zero VOC paints, it is important to dispose of leftovers properly. Some areas allow you to place paint in the trash for pick up, but this should be done only after the paint has been converted to solid waste. All that's needed to accomplish this is to leave the lid off so that solvents or water evaporate.
If you have a considerable amount of low or zero VOC paint left after finishing your project, you may want to consider donating it to Habitat for Humanity or another charity.
Today, painting isn't the unpleasant, odorous, headache-causing task it once was. Using low or zero VOC paint is the smart choice for homeowners who desire to do their part in improving the environment.
At Bud Bartley Custom Homes, we know that more and more people are trending toward green initiatives. If you are considering a green custom built home in Flower Mound, Highland Village, or other prestigious areas in the Dallas-Ft. Worth metro, give us a call today.