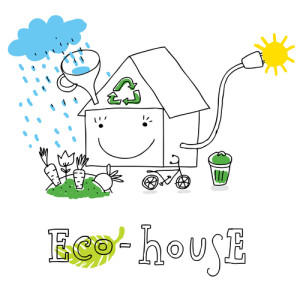 In recent years, green living has become a lifestyle and not just a trend as it was decades ago. Today, families all around the U.S. tend to lean toward practices that are more eco-friendly, which includes the building of a new home. If you are considering a custom built home in North Texas, you should know there is an abundance of materials that are eco-friendly or "green" from which to choose. Achieving the style or design you want doesn't require robbing the earth of natural resources!
Even upscale, luxurious homes such as those our team at Bud Bartley build include eco-friendly materials and features that make your home both beautiful and comfortable. Energy efficiency is important to most homeowners today as well. Some of the features you may want to consider include:
Energy Star appliances – Appliances that are Energy Star rated use substantially less energy than other models – as much as 40% less.
Solar energy. The sun is bright in Texas, so why not take advantage of it for cutting down on utility costs? Green home building often incorporates the harnessing of solar energy.
Dual pane windows help maintain a consistent air temperature inside your home, and because they're better insulated, your HVAC system won't work so hard to cool your home in summer and heat it in winter. Energy and money savings!
Insulation. When you think of insulation, does the pink itchy stuff that resembles cotton candy come to mind? This is what you don't want in your eco-friendly home. Instead, cellulose insulation that's blown in fills every little gap, and also is far more resistant to fire. Another benefit of this type of insulation is the lack of toxic chemicals.
Using compact fluorescent lights (CFLs) and having dimmer switches installed is another way to save on utility costs.
While there are all sorts of things you can do to make your custom built home more eco-friendly, such as using high efficiency appliances to conserve water and installing radiant barrier roof decking, the layout of your home can also impact its energy efficiency, as well as how the home is positioned on your land.
While we build the ultimate in custom green homes, it's important to note that in order to truly achieve your goals of conserving energy and other resources, you need to do your part. Avoid wasting water, turn out the lights when you leave a room, set the thermostat a degree or two higher in summer, or lower in winter.
If you're planning to build a Dallas custom home, Bud Bartley Custom Homes can help you achieve your dream of a custom home that's truly eco-friendly!