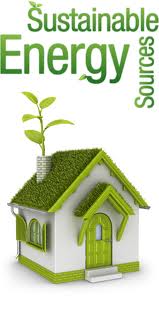 Uncovering how to use more sustainable energy is equally as important as learning how to save energy. Why? Both actions will help us become less dependant upon non-renewable sources of energy that pollute the earth or destroy parts of it during the removal process.
Nuclear energy and clean coal are debatable sources. Their promoters claim they can be used safely and responsibly to keep energy costs down and keep the environment clean. But other people believe that history has already provided proof of how coal pollutes the environment and exactly how nuclear accidents poison populations for generations to come. So for this post, both of these sources of energy won't be included in the sustainable energy category.
But what other forms of sustainable energy are there that we might possibly use? Solar, wind and geothermal are all passive types of energy, and have been in use for centuries, so we have plenty of evidence that they work.
The sun merely has to rise and shine to show that it can heat. Placing solar panels in the sun's direct path lets people store and use the energy later in the form of electricity. On a bigger scale, solar panel farms provide electricity to city and county power companies, university campuses, business parks, etc. Private homeowners can put in a single solar panel to counteract a modest amount of energy use, or they can install an entire system that frees them from the power grid. In some areas, power companies will buy back excess electricity.
Windmills have been used to pump water and mill grain for 1500 years. Today, power companies worldwide are using wind turbines in wind farms to produce electricity. On a smaller scale, homeowners can build individual windmills to produce power for their own property and even sell back excess energy to utility companies in many places.
Geothermal energy comes straight from the earth's core. People have soaked in hot springs since the prehistoric era; the ancient Romans used it in their residential heating systems, and many countries use it today as 10% or more of their national energy production.
Biomass energy is produced mainly from organic material that is remaining from other processes. For example, the garbage that builds up in landfills gives off gasses as it breaks down, and the gas can be used as a fuel source. Ethanol that's included in gasoline in many states comes from corn and sugarcane leftovers. Biodiesel is manufactured out of leftover vegetable oil.
It's good to have some understanding of alternative energy-efficient resources used in our world. It can get us thinking about what kinds of changes we can make in our own lives to do our part in helping the environment.
Are you looking for a sustainable or energy-efficient home in Dallas? We can help you out there! Give us a ring to see what we can do for you. Come hang out with us on Facebook, too!