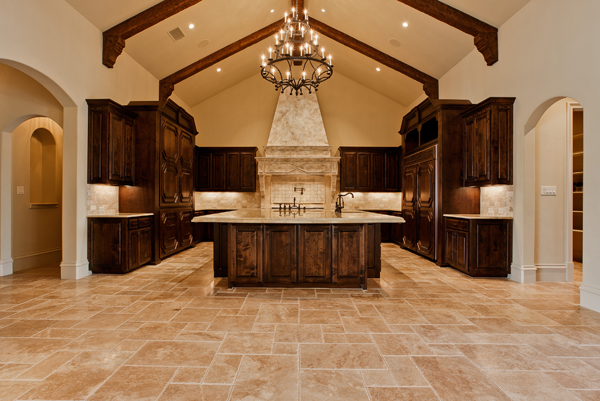 For a lot of people, the kitchen is a social spot – the place where family comes to visit with the cook. Some families, however, like to take it a step further and make the kitchen the focal point for daily family gatherings. The Dallas-Fort Worth area is well-known for its family friendly environment, so it's safe to say we know how to build social kitchens!
If this describes your household, then plan on creating a sitting area that is set aside. This ensures chatting and entertaining can take place without interfering with the cooking. A breakfast bar or a small cafe table nestled into a corner can be transformed into a favorite place where many of the most important discussions of life take place. These areas are also a great spot for kids to sit whenever they need a little help with their homework.
If you have a family member who is serious about cooking, then the layout of the functional workspace – counters, refrigerator, cook top and sink – is imperative. Many new home plans will ignore the classic "triangle" layout and put the fridge inconveniently out of the way or around a corner. Although it may look nice, it will quickly become an annoyance for everyone.
In terms of the cook top, if you do tend to cook a great deal, splurging on an extra-large kitchen cook top isn't a luxury – it is necessary. Unfortunately, most home designs only allow enough room for a standard size.
Has there ever been a time when you wished that more than one large pan could fit on the cook top at the same time? When you're working with a home builder and planning your house from the ground up, it's time to treat yourself! Allow for the space you need! All the while, be sure to take into account how easy your cook top will be to clean. Make sure the cook top is accessible and can be taken apart if necessary. If you have the type of family that enjoys deep-fried food, purchase a highly-effective range hood and steer clear of a cook top with a lot of nooks and crannies to clean out.
If there are two people who love to cook, design a workspace that will allow you both to work together without running into each other. An additional 'produce sink' would be a great addition if the two of you are planning on regularly working together.
On the flip side, if you dine out more often than not and simply use the kitchen area for coffee and muffins each morning, a fast bowl of soup, or possibly a snack food before going to bed, cut back and use the area for other activities that are better suited for your lifestyle. There isn't very much sense in paying big money on a space that's barely used.
Keep in mind, the reason you're working with a DFW home builder is because you are building a custom home to match your lifestyle needs. Rather than base your building concepts on "hot" interior design trends or ideas you saw in an architectural digest, keep the focus on your day-to-day needs and build around that. If you're able to easily accomplish your daily functions in your home because of strategic planning, you'll find yourself satisfied for years to come.
For more information about custom home designs and planning, contact your local DFW home builder, Bud Bartley Custom Homes at 972-318-3802.
You can also connect with our community on Facebook! You'll find all kinds of neat content there that isn't posted anywhere else. Oh yeah, and if you like this post and think others can benefit from the info, please give us a +1 and a Share by clicking on the buttons below!