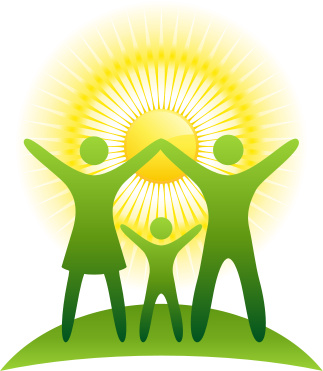 Energy-efficiency makes sense, for both the good of the world as well as conserving money. Which eco-friendly concept motivates you more? It doesn't really matter, because everyone benefits — you, your family members, your friends, your city, the Earth.
Who doesn't want clean air, clean water and healthy crops for food? Saving energy is among the most efficient ways we can clean up our planet. If we can stop polluting the air with gas fumes, carbon emissions, coal and oil heating, we'll breathe, drink and eat in a much more healthy way. But riding the bus or getting a car that is more fuel efficient is not the only way we can conserve energy.
What else could we do? We could make eco-friendly choices in our day-to-day lives. We can make our daily routines and living areas more power efficient. Some of the things we can do will surely cost money. Others will require time. While others are simply about being willing and being persistent in changing habits. If you have purchased, or are considering purchasing, one of our green homes, you'd do well to note that we are a well-known DFW home builder that consistently receives low HERS ratings. What does that mean to you? Well, the lower the HERS, the more energy-efficient the home is! Many of these steps are typically implemented in the construction of your home when you build with Bud Bartley Family of Builders; however, if you're looking for other areas of improvement or are looking to revamp your home which is NOT a green home, the following tips may come in handy.
Let's check out a habit you could change right away. If the space you're in is lit using incandescent lighting, or regular bulbs, turn them off if you are the last person to leave the room. Incandescent lighting doesn't use energy very efficiently. 90% of the energy they will use is given off as heat, and only 10% produces light. If you're also spending money on air conditioning your home, turning off those lights can help you save money on cooling costs as well.
By investing in an affordable green home custom built for you and your family, you've already done a lot of planning to save money and help the environment. But, the planning doesn't stop there. Check out this link to see how you can continue saving energy and money by implementing some of these cost-saving ideas: http://www.energysavers.gov/your_home/energy_audits/index.cfm/mytopic=11170
As you enjoy your new home, you will want to conduct regular inspections to make certain your new green home stays as energy-efficient as possible. First, keep an eye out for air leaks – cracks and gaps that can let out the indoor air that you use energy to heat or cool. Finding and fixing many of these leaks can help you save up to 30% on your utility bills. Next, check your insulation, especially if your house has an attic. Proper insulation can reduce both heating and cooling costs. Also, check your heating and cooling system, and make sure it's maintained and in good working condition. Last, inventory your lighting. For fixtures that are left on for long periods of time, replace high-wattage incandescent bulbs with low-wattage compact fluorescent bulbs.
Insulated windows and doors will save energy and cut utility bills as well. You may want to consider using energy-saving lighting fixtures or installing ceiling fans to improve both warm and cool air circulation. And don't forget that there are solar energy alternatives for heating, hot water, electricity and pool systems to keep your new affordable green home as efficient and environmentally-friendly as possible.
Ask your local DFW home builder, Bud Bartley Family of Builders, for more energy-saving recommendations.
You can also connect with our community on Facebook! You'll find all kinds of neat content there that isn't posted anywhere else. Oh yeah, and if you like this post and think others can benefit from the info, please give us a +1 and a Share by clicking on the buttons below!