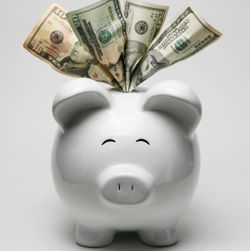 A big part of green home building, or home improvement, is paying attention to the many smaller details that add up to greater energy savings. Ensuring that your exterior doors keep the hot and cold air outside can make a significant difference in your electricity bills, especially in the DFW area where temperatures can soar! Make sure yours are energy-efficient. Your assessment should include patio doors, French doors, front and rear exterior doors, and garage doors (for those who have a heated garage or a garage that's connected to the house). Exterior doors can be made with a foam core that protects from both the heat and the cold. According to the U.S. government's 'Energy Savers' website, a 1.5-inch steel foam core door has six times the insulation value of a wooden door of the same size.
One of the biggest energy-efficient busters is the area at the base of the door, which can be a big cause of air leakage. This gap could be fixed by adding a sweep/flexible flange that produces a seal once the door is closed. This helpful attachment will alleviate any outside air leaking in and vice versa. Remember, a huge portion of your energy bills comes from maintaining an indoor climate that is comfortable for yourself and your family. If you can prevent outside elements (i.e. outdoor air) from invading your indoor climate, your energy bills should be substantially lower.
You will also experience air leakage when the door doesn't fit properly inside the frame, or there are cracks around the outside of the frame. Strip insulating material, available at your local home improvement center, is simple to install around the outside edges of the door. By adding strip insulating material around your doors, you are preventing outside air from infiltrating your home. The most popular, and cost-effective, option to install is the foam strip material with adhesive tape backing. For leaks in between the outside door frame and the drywall, some caulk or expanding foam (with a little touch up paint) will take care of the job for the most part.
As long as you're at it, check your windows for any cracks between the exterior casings and the drywall. If you do happen to find some, you can apply the same caulk and paint solution that we used for the doors example above. Caulk, paint and weather stripping are fairly inexpensive, and can reduce your heating and air conditioning bills significantly.
Patio sliding doors could be improved by weather stripping the gap in between the two panes when the door is entirely closed. Just like other windows and doors, caulking and painting to seal any cracks in between the frame and drywall can stop drafts and conserve energy. If you're considering glass patio doors, spending the additional money on dual pane glass with low-conductivity gasses in between the panes will lower your utility bills in the long-term.
Ask your local DFW home builder, Bud Bartley Family of Builders, for more energy-saving recommendations.
You can also connect with our community on Facebook! You'll find all kinds of neat content there that isn't posted anywhere else. Oh yeah, and if you like this post and think others can benefit from the info, please give us a +1 and a Share by clicking on the buttons below!