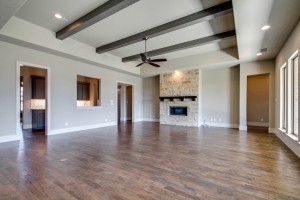 Perhaps you're considering a custom built home in Flower Mound, Highland Village, or other prestigious Dallas-area communities. Or, maybe you live in the area and are curious as to which features potential home buyers are willing to pay extra for. Regardless, there may come a time when you decide to sell your home, or you may want to know what the latest trends are to include in your own custom home. As trusted DFW custom home builders in Flower Mound, we thought you would be interested to know what features buyers are interested in most – and will often pay extra for.
Not surprisingly, nearly 70% of home buyers would be willing to pay more for a home equipped with central air conditioning. This is the same percentage of home buyers who would be willing to shell out a little more money for a home with new kitchen appliances. New kitchen appliances are most important to those in the market for a brand new home; those considering a previously owned home do not place as much importance on new kitchen appliances.
Stainless steel appliances are most important to those ages 35 to 54. More than 40% of home buyers are willing to pay more for this feature, although stainless isn't always the best choice in finishes due to its tendency to wear out faster than other materials – children's fingerprints can also be a drawback.
Hardwood floors are preferred by more than half of buyers, particularly those younger than 55 years old. The biggest reason buyers look for hardwood floors is their ease of maintenance and cleaning over carpet – and of course, their rich beauty.
Granite countertops in the kitchen. Today, those building a home in the Dallas area focus heavily on a beautiful kitchen. The kitchen has become the "hub" of the home, and homeowners desire a visually appealing room that's also highly functional. Granite countertops and islands are two "must-haves" for many homeowners. Kitchen islands provide more room, and make for easier organization.
Other features home buyers look for today include walk-in closets in the master bedroom, eat-in kitchens, and fireplaces.
When building your custom home, it's important to include all of the features that are important to your family's comfort – but also keep in mind the features that matter most should you ever decide to sell!
At Bud Bartley Custom Homes, we build custom homes that are of the highest quality, elegant, and filled with the features you want most. We are dedicated to perfection, and most of all, your satisfaction. Give us a call today!