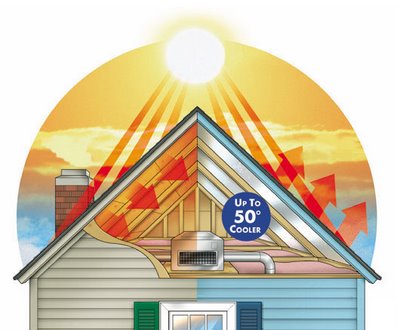 A home's roof has a huge impact on its level of energy-efficiency. Since the roof covers the entire house, it would make sense that it directly effects how hot or cold the attic is at any given moment. In turn, this impacts the level of comfort in the bedrooms and living areas directly below the attic. If your roof is letting in hot or cold air, which will eventually snake its way down to the lower levels of your home, you could be spending unnecessary money on cooling and heating.
The color of the roof influences the air temperature around the outside of the house. Black roofs can cause extremely hot dwellings, particularly in urban areas. Outside temperatures can reach up to twenty degrees hotter than in nearby rural areas as a result of black roofs and asphalt, which soak up and retain the sun's heat throughout the day.
Based on the U.S. government's 'Energy Saver' website, roofs with dark colors can heat up to over 150 degrees in the summertime with the sun directly above. This extra heat gets distributed to the attic or straight to living areas. In any case, it means the air conditioner operating in the main section of the house has to work much harder and use more energy.
In comparison, a roof developed to stay cooler can stay 50 degrees cooler under the same summertime weather conditions. Cool roofs have both an increased SRI (solar reflectance index) and high thermal emittance, which allow the material to release heat quickly rather than retain it. Certainly, a white roof is the most solar-reflective color. However, apparent light isn't the only light that contributes towards heat build-up. Undetectable infrared light can produce heat as well.
A large number of single family homes in the country are constructed with pitched roofs, and a lot of homeowners prefer roofing materials that match the color scheme of the remainder of their home and neighboring houses. Roofing companies have developed materials to build dark roofs that stay cooler. These roofs have a special coating that will reflect ultraviolet light and give off heat. By using these coatings, dark-colored roofing materials can be created to possess a higher SRI rating. However, dark-colored roofs are not as effective as light-colored roofs when it comes to lessening overall heat absorption. If energy-efficiency and cheaper utility bills are important to you when building a new home, you'll definitely want to solicit the help of a custom green home builder. Not only do they have the working knowledge to build you an efficient home, but they also have connections to manufacturers and distributors of materials you will need (i.e. roofing materials).
Another component that will impact the cost to efficiently cool your home is whether or not the roof is insulated. Insulation will lower the volume of heat that enters your home from the roof, thus lowering your utility bills. Although insulation can help a great deal, for best results, you'll want to consider using cool coatings and lighter colors.
Bud Bartley Homes is a DFW home builder that specializes in custom green homebuilding. For more information on our green homes, call 972-318-3802.
You can also connect with our community on Facebook! You'll find all kinds of neat content there that isn't posted anywhere else. Oh yeah, and if you like this post and think others can benefit from the info, please give us a +1 and a Share by clicking on the buttons below!