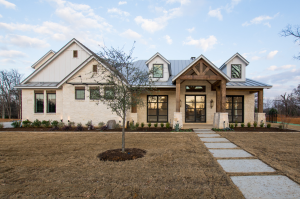 Most people think of a magnificent, upscale home when they think of a custom home. If you're building a custom Flower Mound home, what really defines it and makes it stand apart from the rest? You may think it's square footage, location, or even the style of your home. Certainly a 4,500 square foot home sounds spectacular and impressive, but what other aspects should you take into consideration when making your home as individual as you are?
Since you live inside your home for the most part and it's where friends and family gather, never forget it's often the finishes, accents, and materials that really distinguish your custom home from the rest. Anyone can have stainless steel appliances, granite countertops, or oak cabinets.
Wood and stone are the perfect complements to each other, and can add a distinguished, refined look to your home that's unique from anything you've ever seen. With the wide array of options available today, you can mix and match until you find that perfect look, the one that really says who you are and speaks to what you love in life.
From slate, marble, soapstone, and granite to walnut, rosewood, mahogany, oak, and ebony – natural elements add texture and richness to your home.
Oak is always a favorite, and highly durable, while cherry is an elegant wood that's richness lends to delicate furnishings and colonial settings. With its dark red-brown hue, mahogany is a timeless classic that's perfect for those who prefer a Georgian theme. If you like a rustic, earthy look, adding touches of ebony throughout will add to the rustic appeal.
Soapstone is resistant to heat and is anything but ordinary for those looking for a more unique surface. Slate lets you be more creative with floors, countertops, or even wall accents. Of course marble and granite are always popular choices, but never be afraid to mix or match various types of wood, brick, and stone to create an interior that's truly stunning!
At Bud Bartley Family of Builders, our Dallas custom home builders are dedicated to building quality, eco-friendly homes that are as individual as our clients. For a resplendent home that everyone in the neighborhood will envy, count on our experienced team for excellence in every aspect of the home design and build process.