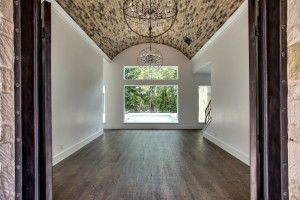 If it's your first time to build a custom home in Flower Mound or any upscale community in the Dallas area, the wide array of choices when it comes to features, finishes, or even structural changes can be overwhelming. Builders are all different, however there are usually options and upgrades you may be able to select during the building process that help truly customize your home. So, what to do?
First, decide on any structural changes or additions early on. What if you want to add a fireplace, an additional room, or move the location of a door/closet? It's vital to make these structural changes immediately. Naturally, the further the building has progressed, the more difficult it is to make changes. It's also important to note the building permit may be affected, and costs may run much higher if changes are made once the home is completed.
Talk to your builder regarding the timeline. Your custom home builder can give you an idea on when you will need to have your mind made up regarding upgrades or other options. When you meet with your builder about design, bring along a list of your thoughts on upgrades/changes, along with any photos of bathrooms, kitchens, etc. that will help in the design process.
Don't expect your new home to look exactly like the model home you toured. Many builders have model homes they can show to potential homeowners demonstrating their quality and workmanship. Many of these model homes may feature extravagant flooring or cabinetry, or other options that are more expensive and not included in the base price. Ask your builder which features or options are standard, and which are not so you won't face any unexpected (or disappointing) surprises.
Upgrades following the closing. There are many changes homeowners make after the purchase, usually cosmetic. These may include chair rails, paint, lighting, crown molding, plumbing fixtures, etc. Depending on your budget and the builder, you may even decide to upgrade appliances after closing. Know what you can and cannot do, and what upgrades or additions the builder's home warranty will or will not cover. Also be aware that certain upgrades could in fact void the builder's warranty.
When building a custom home in North Texas, there are lots of decisions to be made. Keep in mind your budget, resale value, and to what extent you want to customize. Most important of all, work with a builder you trust, one who will answer all of your questions and provide guidance throughout the entire process.
At Bud Bartley Family of Builders, we want our customers to trust us for our expertise, skill, and dedication to your satisfaction. For answers to your questions about building Dallas custom homes, contact us today!