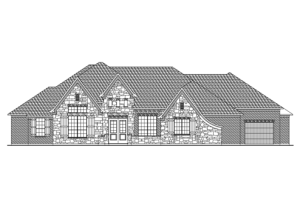 As trusted Dallas custom home builders, we're always on top of the latest trends and what's "hot" in the home. We know that for many homeowners, those features and amenities they loved in the 90s may not be so great today. So, what are the latest trends in custom home building? We have a few of the answers.
You may have heard of the "tiny house" trend, but are homes really getting that small? In the North Texas area, most custom homes range from about 4,000 to 7,000 square feet, although some are a bit smaller or even substantially larger. It really all depends on the client, as some are young families with children and others are baby boomers or empty nesters. For older homeowners, it's often more about outdoor spaces than a huge home.
What are the most popular exterior facades? This is a personal choice as well, however some of the most-used words by clients are "clean" and "modern." Lots of windows, clean lines – a home that's transitional. However, it's important to note that French, traditional, and Mediterranean are still extremely popular.
Energy efficiency is top of the list. Those building a custom home in Dallas often spend a substantial amount of money on their homes; however, at the same time, they want lower utility bills. Today, homes are super-efficient thanks to good insulation, energy-efficient windows, modern HVAC systems, even tankless water heaters and low-flow showerheads.
When it comes to kitchen counters, many people love marble regardless of the hassles that can come along with it. Other popular choices for countertops include engineered stone and quartz, but granite isn't as popular as it once was.
What about kitchen appliances? Today's homeowners go for a clean, uncluttered look. For this reason, many builders with clients who love clean lines use appliances that resemble those from Miele. Ice machines, warming drawers, high-end coffee makers, wine refrigerators, steamer ovens, even glass refrigerators are all the rage.
When it comes to building a Dallas-area home, it's really about what the client wants and feels most comfortable with. Trends in custom homes change every few years, so it's important to focus on what will make you happy and your life more convenient now, and down the road. Contact Bud Bartley Family of Builders today, and learn how you can live your dream!