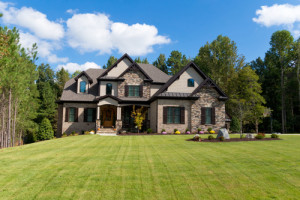 Perhaps you're having a Dallas custom home built, are considering a home that's almost completed and brand new, or even buying a resale home. Regardless of which route you go, there are some common mistakes buyers make that they may come to regret later! We'll share some of the biggest below, so that hopefully you can avoid any regrets in the future.
Location. The house may be perfect, beautifully landscaped with great curb appeal, and in a top school district. No matter how perfect the home, you'll have an impossible time selling, should you ever decide to, if there's a strip mall or chicken farm backed up to your property – and imagine how it could affect your own quality and enjoyment of living in the home!
Sacrificing a great interior for a beautiful exterior. Certainly many upscale homes are perfect both inside and out, but if it comes to deciding between a gorgeous exterior and a functional floor plan that works for your family, never settle. An open, friendly, comfortable layout that you never get tired of looking at when you open the door is essential. The floor plan should be functional with beautiful spaces you'll want to live in every day.
Impatience is a killer when it comes to buying a home. It isn't just the square footage, layout, curb appeal, and a gorgeous interior – think about the neighborhood as a whole, the school district, tax rates, how far the commute to work will be, how much you should really pay for your home. Those in a hurry often end up paying thousands more, and because a home is likely the biggest investment you'll ever make, patience is truly a virtue.
Building a custom home in the Dallas area? Be sure to do a little checking around on the builder! What warranties are offered, and how many years has the company been in business? What are past clients' opinions of the builder's work? Does the builder use energy efficient materials and appliances, or offer a green building program? Know as much as you possibly can before you jump in; this is also important if you're considering a home in a community designed by certain builders that's already completed or at some stage of completion.
These are just a few examples of the mistakes often made by buyers in their haste to buy or build a new home. Carefully consider every factor from location and education to tax rates, the neighborhood, reputation of the builder, how much you love the home inside and out, and more. This is one decision you want to know is the right one!
At Bud Bartley Family of Builders, our family of custom home builders cater to those in North Texas who desire only the best in life in terms of quality, sustainability, and beautifully designed homes. Contact us today!