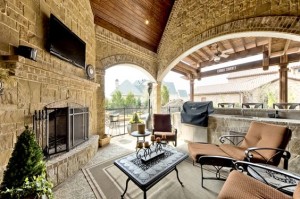 Considering temperatures outdoors in North Texas don't usually get too awfully cold during Fall months, many who live in the Dallas Metro and outlying suburbs still enjoy being outside as long as possible. While you may not have considered it, your outdoor spaces are just as important as those indoors, especially if you're an outdoor lover! What are the latest trends in outdoor living spaces? We'll share some of the ideas revealed by design experts below.
Homeowners in Flower Mound and other upscale neighborhoods want outdoor spaces that are not only relaxing and appealing, but functional as well. Many today are expanding living room space by connecting it to the outdoor space in a way that is seamless. For example, incorporating sliding glass panels that literally "disappear" into wall pockets is a popular and growing trend.
How to enjoy the outdoors even when it's raining or bugs seem to be in abundance? Screened porches are hot right now, and typically include ceiling fans and beautiful lighting. You enjoy the great view and fresh outdoor air, while insects and rain stay out!
Exposure to natural light is essential for well-being, whether during spring/summer months or during colder months. By creating living spaces in the great outdoors that also allow more natural light to come indoors, it's a win-win both aesthetically and mentally.
If you're thinking of creating an outdoor living space that will help you enjoy both the indoors and outdoors regardless of the season, here are a few tips to keep in mind:
All materials used in designing your outdoor space should be appropriate for any weather, whether it's sunny, raining, or snowing. Think about ceiling fans, lighting, even humidity levels as excess moisture doesn't "play well" with some materials.
Good floor choices for the outdoor environment include slip-resistant tile and composite materials.
Low voltage LED and sensor lighting are popular options when it comes to lighting up your outdoor space.
Wouldn't you love an outdoor fire pit during the coldest months of the year? Many homeowners in the Dallas area purchase kits from local home improvement or hardware stores that can be built in a single weekend.
As builders of custom homes, we understand that today, the outdoor spaces are every bit as important as those indoors. Functionality, expanding your living space, and adding value to your home is what it's all about!