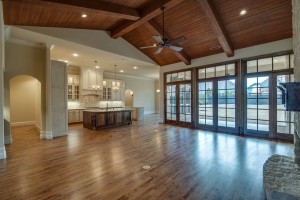 Having a custom home built in Flower Mound or another upscale area in the Dallas area? While you may not even be considering ever selling your home at this point in the game, there may come a time in the future that you change your mind for one reason or another. As experienced custom green home builders, we know there are certain upgrades that really pay off for those who decide to sell their homes. We've shared a few you may want to consider below.
Front porch or back patio. Not only does the addition of these exterior features add interest and appeal to your home, they also add value – in some cases substantial value, depending on size, design, materials used, and other factors.
Energy efficient windows. Low-E windows save you significantly in terms of energy costs and they increase your home's comfort – they're also a top priority for many homebuyers. Keep this in mind when building your home, or even upgrading an already existing home.
Hardwood floors have been popular for years, and still are today. There's nothing like rich, gleaming wood floors, regardless of the style of your home – and they're easier to maintain than carpet and other types of flooring.
Upgrades to the kitchen and bath. Whether premium appliances and granite countertops in the kitchen or double sinks, heated floors, and a rain shower head in the master bath, these are the two rooms potential buyers are most interested in. Make sure yours aren't outdated!
Other upgrades include premium quality carpet and exterior doors (including garage doors) that are modern and visually appealing. Curb appeal is critical!
Why take shortcuts when building a custom designed home in North Texas? At Bud Bartley Family of Builders, we know you get out of a home what you put into it. Certain features and amenities pay for themselves should you ever decide to sell, so think carefully when choosing flooring, windows, fixtures, countertops, and more. We've built custom homes in Flower Mound for decades, satisfying even the most demanding clients. Contact us today!