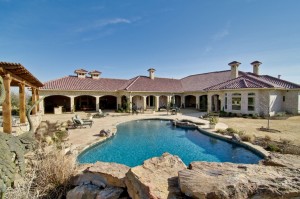 If you're in the process of building a custom home in Highland Village or any other Dallas suburb, you may still be living in your current home. You want to sell it by the time your new home is complete and ready to move in, so how can you sell it quickly – and for more money? Our custom home builders have a few tips.
First, de-clutter and de-personalize. Potential buyers want to be able to picture their own belongings in a home, which is difficult when you have personal items such as family photos, heirlooms, memorabilia, even the kids' school handiwork on display. Remove as many personal items as you can, and eliminate the clutter. If your kitchen counters are covered with small appliances, put them away. The same goes for books, magazines, and anything that's lying around in the living room or other rooms of your home.
Upgrade – but don't do a complete remodel. You don't want to spend a significant amount of money making updates, but small repairs will pay you back. For instance, you may want to consider scrubbing the grout, painting the walls in a room or two, or adding new cabinet pulls. It's the small things that can make a huge difference!
You may consider Fido a member of the family, but not everyone loves pets. Whether you have a dog or cat, be sure they're not present when you have an open house or are showing your home. Put away the pet supplies and food bowls; clean up the hair; and sanitize the air by shampooing the carpet, using candles, fresh flowers, or other methods.
Keep it clean. You never know when a potential buyer is going to show up, and you may not have two or three hours to get everything spotless. Keep it ready by keeping the clutter picked up, and making sure the bathrooms and kitchen are squeaky clean.
Realize the first impression is the only one that counts. What do potential buyers see when they drive up to your home? Curb appeal is critical. Your home should appear welcoming and well-maintained. Manicured shrubs, bright flowers, immaculate landscaping, outdoor lighting – even a bench with fresh flowers placed at the front entry leave a good impression. Buyers are already forming perceptions of your home before they ever enter the door, so make sure they're positive perceptions!
Homes tend to sell very quickly in the Dallas area, one of the hottest markets in the country right now. However, if your new custom home in Highland Village is almost move-in ready, you may want to act fast. Consider these tips for a quick sell!
If you're thinking about having a custom home built but haven't taken that first step, contact Bud Bartley Family of Builders. We're all about superior quality in materials and workmanship, and are dedicated to your satisfaction!