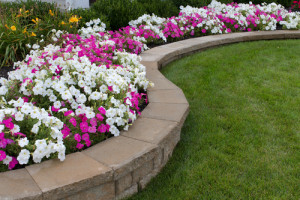 Maybe you've recently purchased a newly built custom home in the North Texas area, or you worked with the contractor in building a custom home to your own specifications. Regardless, you'll want to landscape to make your property more beautiful and add curb appeal. You have a fresh canvas to do whatever you want with – but don't dig in the shovel before you give it a lot of thought!
Dirt is all you need, right? Not so fast. Topsoil is great for the grass, but could it just be fill dirt? Not the best for growing grass, plants, or flowers so you'll want compost to make the soil rich and fertile, perfect for those plant or flower beds that will set your landscape apart. While you probably don't have "natural" compost lying around (comprised of rotted weeds and vegetables, grass clippings, etc.) what you CAN do is get bagged compost in the form of cow manure. Trying to cultivate a beautiful lawn or landscape with only topsoil or fill dirt is a challenge!
Are those builder plantings really what you want? Builders often plant trees or shrubs near a newly constructed home to make it more appealing and take away from that blank or stark look. Are those plants really what you want, and how big will they grow in relation to their closeness to your home? If you aren't sure, rip those builder plantings out and plant the types of shrubs, flowers, and trees YOU want – and that fit in with your spaces and landscape ideas.
Think carefully about the land when it comes to planting trees, flower beds, or even a vegetable garden. Certain plants love to soak up the sun, while others thrive in shade. Soil that drains well is another thing to think about, so you won't want to plant a garden in an area that stands in water for days on end without having work done so that the area does drain well. Essentially you want to get to know the land before you jump in and start transforming your landscape into the one you've always dreamed of!
At Bud Bartley Family of Builders, our Flower Mound custom home builders understand that while you want a beautifully designed, quality home your family will fall in love with all over again every time they enter, the exterior is the first thing people notice – the "first impression" they get. Hopefully these tips will help in your landscaping efforts!