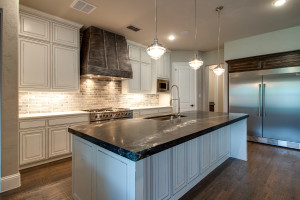 At Bud Bartley Family of Builders, we've been building beautiful, upscale custom homes for decades in North Texas, including the areas of Flower Mound, Argyle, and most recently, Corinth. While you may not be aware of it, if you're considering a custom home in North Texas, there are some key design factors you want to keep in mind. Utility costs tend to go up and not down, and since it's a home built to your needs, incorporating what you want in a home is easier done from the get-go than remodeling later.
Some of the popular trends and concepts today you may want to consider include:
Open floor plans. Open design is what most homeowners want, spaces that can be used in a multitude of ways. Who wants walls everywhere that block off natural light and the easy flow from one area to another? Of course you want bedrooms and baths to be private areas, but when it comes to the family room, game room, kitchen, and dining room, an open area that makes it possible to enjoy more togetherness is important. You enjoy living spaces that make use of natural light and improve energy efficiency while creating comfortable, friendly spaces. It's an atmosphere that's definitely more inviting.
"Green" homes are energy efficient. This is important not only for you in terms of saving on utility costs, but it's important for the environment as well. From the insulation used in building your custom home to updated appliances, energy-efficient windows, roof decking, and even the use of reclaimed wood or other materials, it's possible to live greener while doing your part for the health of future generations.
Put more focus into the kitchen and bath. Many families spend lots of time in the kitchen, which has become the "hub" of the home. Bathrooms offering a spa-like experience, fully equipped kitchens for the gourmet chef in the family – it's a smart investment and luxury you'll enjoy. And why not, considering it's your dream home? If you should ever decide to sell, putting a little extra into these rooms will pay off.
Outdoor rooms in the form of an enclosed deck or patio, a home office or media room; today the sky's the limit! When it's your home, why not include all of the amenities that make your life easier and more enjoyable?
At Bud Bartley Family of Builders, our goal is to make your dream come true. Our Flower mound custom green homebuilders are dedicated to quality, beautiful homes, meticulous workmanship and attention to detail, and most of all, your satisfaction. Give us a call today!