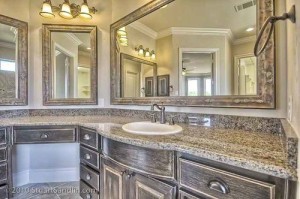 Interested in building a custom home in Highland Village? Bud Bartley Custom Homes knows that when it comes to bathrooms, many homeowners overlook lighting. While great attention is paid to shower surrounds, hot tubs, floor tiles, and other aspects of the room, too little is paid to one of the most important features!
There are four primary types of lighting for the bathroom, which we'll discuss briefly below.
Natural lighting – Windows are often not included in bathroom design, simply because homeowners have privacy concerns. While natural light is not essential if you have the other types of lighting, it is a nice touch. You may want to consider a skylight, which adds even more to the relaxing, inviting atmosphere when installed near the tub.
Ambient lighting – The primary source of illumination, ambient lighting provides comfort and safety to your bathroom, and may be in the form of wall-mounted fixtures, small chandeliers, or recessed. A dimmer switch makes it possible to dim or brighten the lighting, depending on your needs. For instance, you may prefer softer lighting if you intend a long soak in the tub, or brighter lighting for a quick shower.
Accent lighting – As the name implies, accent lighting "accents" the bathroom, and can direct the attention to a focal point in the room such as a plant or painting, or add visual appeal that is a bit more dramatic than other types of lighting. Accent lights are usually designed in a way that you can direct the light on a particular area of interest or in the direction you want it to shine.
Task lighting – For most homeowners, task lighting in the bathroom is essential. Whether for applying makeup or other grooming tasks, task lighting provides good illumination for shaving and, unlike other types of lighting, eliminates shadows and glare. It is also easier on the eyes, causing less strain than other types of lighting.
As custom home builders for those building their dream homes in Highland Village, Flower Mound, or other outlying suburbs of Dallas, we know that bathroom lighting is often overlooked in the process of building a home. Give your bathroom careful thought; after all, it is one of the most used rooms in your home, not only by family members but guests as well. For all of your custom home needs, Bud Bartley Custom Homes is the go-to expert.