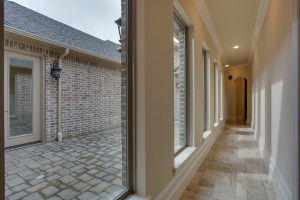 Most people who are considering a custom home in Flower Mound know that building vs. buying an already constructed home gives them the opportunity to customize; to really make the home their own in terms of layout, number of outlets, kitchen cabinets, room size, convenience – the whole shooting match. As one of the most trusted custom home builders in Flower Mound, we know there are other important benefits you may not even be aware of! Take a look.
Money savings on repairs and maintenance. With an older home, you may face repairs soon after you move in. Is the HVAC system in good shape, and how old is the water heater? How about the plumbing and wiring, or even composite material used in construction? When you build a home from the ground up, you know it's all new and of the best quality – so you'll have no worries about maintenance and repair for years to come.
Energy savings. Many custom home builders today implement green features, and use the highest efficiency heating and cooling systems. Radiant barrier roofing, insulation, windows, water conserving plumbing fixtures, a highly efficient HVAC system – all of these things add up in terms of energy savings, which equates to money savings. An added plus: your home is environmentally friendly!
Modern technology. Who would have thought a decade ago that the thermostat could be controlled from a smartphone, or a home could be designed in such a way that you could control security or lighting from an app or mobile device when you're away? Modern technology has come a long way in recent years, and even mounting a flat-screen television in an older home may require a lot of work. Considering computers, tablets, programmable thermostats, gaming consoles, DVRs, and all of the other gadgets common today, a home needs to be designed for modern technology.
The fact is, it's easy to simply buy an existing home and move in – but will you be happy once you're all settled in, and what issues might you face? Repairs, maintenance, inadequate wiring or equipment for all of your technology needs, lack of energy efficiency, it could be a real hassle.
At Bud Bartley Family of Builders, our Flower Mound custom home builders are dedicated to excellence in every aspect of the homebuilding process. Give us a call, or explore our website to learn more about us.