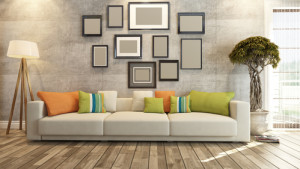 When in the process of working with a builder to create a custom dream home in Flower Mound, many homeowners spend plenty of time browsing the aisles at large home improvement stores like Lowe's and Home Depot. Lighting fixtures, flooring, countertops, bathroom vanities – it's so much fun to browse, and you can hardly contain your excitement. While these stores do offer great prices on lots of things for the home, once your beautiful house is complete and you've moved in, there are a few things you should shop for elsewhere.
Of course you'll need some new decor to spruce up your new home, but these stores probably aren't the best place to buy it. When it comes to wall art, rugs, picture frames, and other decorative items, you can often find the exact same thing for a better price at Kmart, HomeGoods, or other shops.
What about cleaning supplies? You want to keep your home spotless and maintain its new condition for as long as possible, but it's smarter to purchase most cleaning supplies (especially brand names) at Walmart or Target. Additionally, big box stores usually have generic alternatives that work as well, and are substantially cheaper.
Batteries and grilling accessories. You can never have enough batteries for wall clocks, alarm clocks, the smoke alarms, remotes, flashlights, etc. but your best bet is to stock up at Costco or Walmart, as batteries can cost a pretty penny at large home improvement stores. The same is true of grilling accessories like cooking utensil sets or other tools; they're cheaper at HomeGoods, TJMaxx, or even Amazon.
Microwaves, toasters, coffee makers, and food processors also tend to cost less at other retailers such as Costco, Walmart, Sam's Club, or Amazon.
Ultimately, it's best to shop around when it comes to some things for the home. While large home supply stores such as Home Depot and Lowe's do offer great deals and even specials, they know consumers are likely to grab those cleaning supplies, batteries, and other goods off the shelves while shopping. Take your time and compare prices; you could save a bundle!
Looking to build a new custom home in the Dallas area? At Bud Bartley Family of Builders, our Flower Mound custom home builders are dedicated to bringing your dream to life in a quality, beautiful home your family will love.