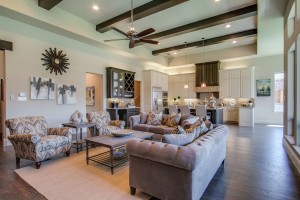 Trends come and go when it comes to fashion, but when you're building a custom home in the Dallas area, or any other region of the country, they often last for years. What are the current trends in custom home construction? If you're thinking about having a custom home built in North Texas, you'll find the following information helpful.
Home automation. Today, it seems that everything is "smart" when it comes to technology. Smart phones, smart thermostats, smart homes. From thermostats that can be controlled remotely to portable cameras and doorbells that are Wi-Fi enabled, homeowners can control and manage their homes while at work, running errands, even while on vacation. Smart homes not only improve security, but also reduce energy costs in many cases.
Solar panels, shingles, and more. Solar roofing used to be way beyond many homeowners' budgets, however today's technology has become a technology that's far more affordable for many who are building a new home. This is due in part to support from eco-conscious investors, city and state governments, and even power companies. Solar is environmentally responsible, and saves homeowners on energy costs.
Interior barn doors. Who would have thought barn doors would one day come inside your home? Today, these doors not only add charm and design interest, they also present a smaller profile because most slide – meaning you don't have to waste space for a door to swing in one direction or another to open. From closets to doorways leading from one room to another, barn doors have solved a plethora of interior design issues!
Windows that are energy efficient. You're probably thinking, "but this type of window has been around for ages." True, but today manufacturers are experimenting with ways to make it possible for homeowners to transform coatings and films so that by simply flicking a switch, windows can be glazed to become opaque or frosty – it may even be possible to receive information about locking or closing windows to save on energy costs!
Keeping up with all of the latest trends in new home building can be tough, but our Flower Mound custom home builders are dedicated to keeping you informed! When building your dream home, never settle for ordinary. At Bud Bartley Family of Builders, we help inform, educate, and guide you throughout the entire process.