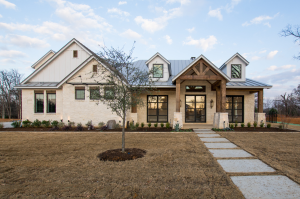 It probably doesn't come as a surprise to hear that the Dallas-Ft. Worth area, and all of North Texas, is the country's leader when it comes to home building. In fact, we've been having a sort of "housing crisis" over the last year or so as homes are in demand, but supplies are short. People are flocking to Flower Mound and other cities all around Dallas, but home builders are having a tough time keeping up because of a shortage of construction labor. According to the Dallas News, the area is currently undersupplied by approximately 20,000 skilled construction laborers!
With the shortage of construction workers, naturally wages are soaring for those that can be found. Unfortunately, this all trickles down to the buyer, who will pay a bit more for a custom home. Still, home sales in North Texas are soaring, and according to a 2017 Builder 100 survey, home sales in the Dallas-Ft. Worth area continue to thrive along with other areas in Texas, including Houston and Austin.
Who are the dominate buyers in the Dallas area? According to the survey, builders anticipate the types of buyers in 2017 that will impact home sales most are families with children. Coming in second are active adults and empty nesters.
While there may be a shortage of construction labor, it seems the demand for new homes continues to rise across the country. According to the April survey, the average score for home sales in April 2016 for the country's 36 leading markets was 7.03. This score increased to 7.72 last month, an increase of 9.81% for these leading markets – Dallas-Ft. Worth included. Good news!
As one of the most trusted custom home building companies in Flower Mound and North Texas, Bud Bartley Family of Builders continues to focus on quality, upscale homes that are eco-friendly, affordable, and most of all, built to the specific needs of our clients and what they visualize as their dream home. Contact us today to learn how you can live the dream!