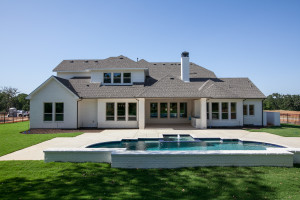 Many people have no idea what a builder who focuses on high-end luxury homes goes through when building custom "spec" homes in a community or development. For example, we currently have several custom home projects underway in Saddlewood of Flower Mound, and have built hundreds of homes over the years in Flower Mound, Argyle, Highland Village, and other communities. Do we simply "pick" a neighborhood out of the clear blue and say "This is where we're going to build?" Of course not – it's a process that involves research and determining the right criteria.
No doubt you've heard the phrase "Location, location, location." When it comes to building a high-end home (or any home, for that matter) location is critical not only to the builder, but also the buyer. You want a home with easy access to dining, medical facilities, shopping, great schools, airports, family activities, and more. Lots of buyers today desire to live close to major highways, but not smack dab in the middle of a congested, noisy city. We understand that, and choose the communities we build in carefully.
Amenities are important. Families today enjoy active lifestyles, so an important factor when building custom homes in North Texas is whether there are nearby parks, trails for hiking or horseback riding, a neighborhood pool, clubhouse, and other amenities.
Landscape and topography are critical. How good is the soil, and are there numerous hills and valleys, or is the land fairly level? Are the lot sizes sufficient for building a large home or estate, and still allow for room to enjoy the outdoors? Good soil is important not only for growing a beautiful lawn, but engineering a solid foundation. Whether there are ponds, lakes, beautiful trees – the landscape and overall environment are critical when choosing a neighborhood in which to build a home.
Security, crime level, quality of life. We look at the community from the buyer's or investor's perspective, and know that those buying an upscale home desire a secure neighborhood offering an enhanced lifestyle, one with little or no crime. From the median age of those living in the community to affluence, we consider all of the demographics.
As you can see, choosing a community in which to build a home, or even an entire development, is a carefully thought-out process that requires plenty of research. At Bud Bartley Family of Builders, our Flower Mound custom home builders are dedicated to not only quality, spectacular homes but the entire living experience for the families who will live in those homes.