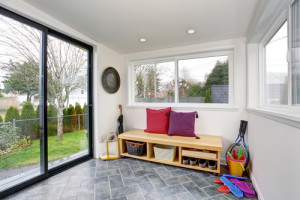 If you're building a custom Flower Mound home in the near future, you may be considering whether or not to include a mud room. This is particularly true if you have children, teens, or pets, as you know that what's outside can quickly come inside your home whether mud, rain, slush or snow in winter months, dirt, and more. If you're not sure of the uses of a mud room or why you would need one, we'll clue you in below.
Unlike the mud rooms of the old days where it was basically a space to take off shoes or dirty clothes and wash your hands, today's mud rooms provide far more functionality.
Typically located at the side of a home, the mud room is where all members of the family can enter and remove shoes, rain coats, leave umbrellas, and more. Mud rooms also contribute to a "green" home, as they act as a climate barrier between the outdoors and the indoor temperature regulated by your HVAC system. Considering their small size, you can make great use of the vertical space by adding shelves, cabinets, and hooks for storage of not only outerwear and shoes, but gloves, school books, backpacks, and more. If you have a family member of the canine variety, it's also a great place for bathing and grooming!
It all boils down to the fact that a mud room can keep your entire home cleaner so you don't find yourself constantly sweeping or mopping up the mess. When designed using materials and floors that are easy to clean, you can contain all the mess in one room – and it's great for a laundry room as well. Why have anything and everything that your family walks through each day tracked throughout your home?
At Bud Bartley Family of Builders, our Dallas custom home builders are dedicated to building quality homes designed for your lifestyle. Is a mud room something you should consider in your new home? Contact our dedicated team of builders today, and live the life of your dreams.