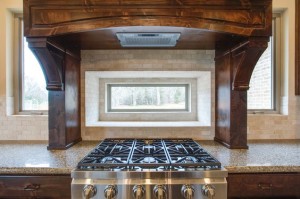 Your concept of what your dream home should be goes beyond the expense – it's about the memories that will be made in your home, comfort, that feeling that there really is "no place like home." It's where life happens! Some builders claim to build custom homes, but one person's definition may differ from another. With more than 30 years of experience in the industry and a reputation for excellence, we believe in a few concepts that make our team stand apart from the rest.
We're with you every step of the way. Assisting with research, working with designers, working with you personally to ensure that when all is said and done, your home is exactly what you had envisioned.
We surpass Greenbuilt North Texas and Energy Star programs, going the extra mile. From Energy Star certified appliances and fresh air supply (HVAC) to Tyvek ThermaWrap, vinyl framed energy efficient windows and radiant barrier roof decking, our homes surpass strict energy efficiency guidelines set forth by the EPA and offer exceptional HERS ratings.
Prefer to build on your lot? No problem at all. If you have land, we will build the home of your dreams in the location you prefer. Depending on its size and shape, we'll also help you determine an effective layout if needed.
Our team is comprised of the best tradesmen, hands down. Our building associates are master craftsmen, dedicated to nothing less than the best. With an eye for detail, integrity, and a team who hold themselves to a higher than average standard, you'll feel confident you've put your trust (and your home) in the right hands.
Dream big, and you can live it. Because the Flower Mound custom homes we build are designed specifically for our clients, you can live the dream in a home that's truly 100% customized to your needs.
Lasting relationships. We believe clear communication from beginning to end is key to our customers' satisfaction. We don't simply build your home and walk away – our relationships with our clients are important to us. Some builders don't warranty the homes they build, which should be a red flag. When custom home builders provide a warranty, you can bet they build a superior home.
These are just a few of the concepts we believe make our team of custom homebuilders a better choice. If you're thinking of building a custom Flower Mound home, be sure to contact Bud Bartley Family of Builders first! We truly do bring good things to life.