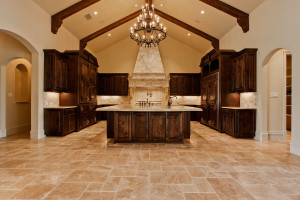 As well-respected Flower Mound custom home builders, we know the flooring you choose is extremely important; in fact, flooring is one of the most important aspects of your home, and the type you choose should depend not only on your preferences, but your lifestyle as well. Carpet, wood floors, tile, laminate, or even cork or bamboo. Which is right for you? We'll help you answer this question below, so that once your custom home is completed, you will be happy with the flooring choices you made.
A few key questions to answer when deciding on the best choice in flooring include:
Is the room one in which your family or guests will eat or drink in on a regular basis?
Do you have indoor pets?
Is there an outside entrance that opens directly into the room?
Will the room(s) be used for entertainment, children's play, an office or study, etc.?
How many children (including your own and your child's/children's friends) do you expect will use the space, and how frequently?
Is the room one in which moisture may be present, such as a bathroom or basement?
Answering these questions can take you a long way toward choosing the right type of flooring. For instance, in rooms where you anticipate people will be eating or drinking on a regular basis, you may want to avoid carpeting. The same is true if you have pets, as carpets hold odors that are sometimes difficult to remove, even with steam or professional cleaning. Carpets also make a room dustier, because particles, dander, pet hair, and other debris get into the padding and are nearly impossible to completely remove. Carpet is the lowest-cost option, however it's important to consider the drawbacks.
Hardwood floors are a favorite, for good reason. Durable, easy to clean, and timeless, hardwood floors are simply beautiful. While the cost may be more than other options, this type of floor adds value to your home and can last for decades as long as it is maintained properly. If you have members of the family who suffer from allergies, asthma, or other respiratory issues, hardwood floors are a good option.
Tile flooring is a popular option for the kitchen and bathrooms, because of its resistance to spills and attractive appearance. In the bath, you have to be careful in the type of floor you choose because of water and humidity, which can be damaging to some types of flooring. Tile is moderately priced as well, helping you stay within budget.
There are also eco-friendly options when it comes to flooring, including cork, bamboo, tiles made of recycled glass, and more.
Laminate floors are a popular option as well, and created to provide the look of wood or stone for less money. While laminate floors are easy to clean and maintain, some believe they aren't the best option for a kitchen or bath, where water or steam can cause warping. If you can't afford real wood in the living room or dining room, this may be a good choice as you can achieve the look at a substantially reduced cost.
Consider the questions mentioned earlier in choosing the floors for your home, think about your lifestyle, and perhaps most important, your own style and design preferences.
At Bud Bartley Family of Builders, we build custom homes in Flower Mound and throughout North Texas that are not your ordinary homes. We use quality materials, master craftsmen, and are committed to excellence. For more help choosing which flooring is right for your new home, give us a call.