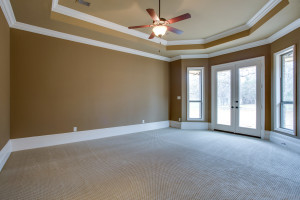 Without proper care, carpets can lose their plush, clean appearance quickly. The main culprit between carpet that looks brand new and those that look a decade old in no time? Dirt. As one of the most reputable custom home builders in North Texas, we have a few "secrets" we want to share that will help you keep your new carpet looking new for years to come.
Having new carpet installed can cost a pretty penny, but with the right care you can actually triple its life. Here's what you need to do:
First, consider your vacuum cleaner your best friend. Choose a vacuum with good filtration, and vacuum all of the carpets in your home twice each week. In areas that receive high traffic, you may want to vacuum even more often.
Protect high traffic areas. Rugs and runners are great for preventing wear in high traffic areas, or even for placing in front of the sofa or other pieces of furniture that are used often. Another "trick" to prevent obvious traffic patterns in your carpet is to rearrange the furniture every now and then.
What brings in more dirt than anything else? Look down – the shoes you wear! Encourage your family and guests to leave shoes at the door, and place a mat outside all entrance doors for brushing off loose dirt, mud, and other debris. You may also want to consider a rug right inside entrance doors as well to further remove dirt from shoes.
Clean stains right away, and protect from direct sunlight. Carpets can fade when exposed to direct sunlight, just as the sun can fade a car or age your skin. Close the blinds or drapes to keep sunlight from bearing down on carpets. Additionally, clean any stains immediately, before they have time to set in. To clean, use a product designed for cleaning carpets along with a lint-free cloth, and don't "rub" the stain, but blot it. Any residue remaining after the area has dried can be loosened with a plastic scraper, then just vacuum.
When you haven't lived in your custom built home very long, you want everything to remain as beautiful and new looking as possible for as long as possible. By following the suggestions above, you can enjoy fresh, beautiful carpets that retain their new look for many years.
If you're thinking about having a new custom home built in or near Flower Mound, count on Bud Bartley Family of Builders for unparalleled results and quality! You truly can live your dream.