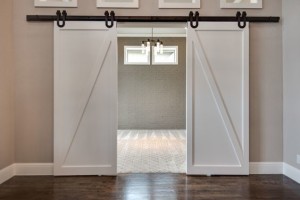 You may think that building a custom Flower Mound home is all about the space – lots of square footage is what often comes to mind when people think custom homes. The truth is, a custom built home can be any size – it's the customization that makes it unique! These days, people are actually building smaller homes, with the average being about 2,150 square feet rather than the expansive 3,000 and 4,000 sq. ft. homes of a few years ago. What are some other popular home design trends today?
No formal living room. What? Every home has to have a living room! The difference today is that families prefer great rooms and open floor plans that combine the family room and kitchen, a large open space where everything can be done from cooking and entertaining to watching television and homework. Other rooms that are becoming more extinct in homes today include formal dining rooms, mudrooms, and third bathrooms.
When it comes to kitchen design, think cozy and inviting. For some, sleek, ultra-contemporary kitchens seem a bit cold and uninviting. Today, homeowners are moving toward kitchens with table space and breakfast bars, double sinks, and recessed lighting – without the giant walk-in pantries and large islands of yesteryear. Shaker-style cabinetry and other traditional details give the kitchen a more welcoming feeling.
It's all about green. Consumers are becoming more aware of our impact to the environment, and that there are ways to make a home more energy efficient while saving money. Energy-efficient appliances and windows are a must; many building custom homes in the Dallas area also desire low-flow faucets and other water-efficient features. A high-efficiency HVAC system is also critical to comfort, lower energy costs, and a reduced impact on the environment.
In the bathroom, it's a toss-up. Some people prefer soaking in a nice hot tub after a long day, while others enjoy the quick convenience of a shower. Freestanding tubs in styles from curved to contemporary or vintage are hot for those who love a long soak, while those who prefer to shower realize that by completely eliminating the tub, there's room for a linen closet. This really boils down to personal choice!
These are a few of the most popular trends in home design today in the Dallas area, and all across the country. If you're building a custom home in Flower Mound, the most important thing is to design your home the way YOU want it, in a way that makes it most comfortable and convenient for your family.
Thinking about building a beautiful new green custom home? Give Bud Bartley Family of Builders a call today. For us, it's all about quality and your satisfaction!