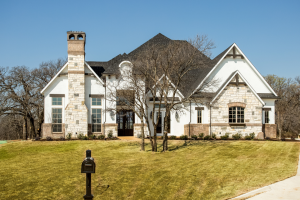 Building a custom home is many people's dream, whether you want a huge open living room/kitchen area, a dressing room in your walk-in closet, or even a workout room. The beauty of a custom home is that it can be built to your specifications, which only makes the experience more fulfilling. Before you decide on all of the elements of a new home, there are some other things you need to give thought to, or even learn.
First, make sure your financing is in order. Know that the land you purchase, the design of your home, and even the quality of construction materials will affect the final price you pay. Additionally, if financing your home, you will need a construction loan – and if you haven't already purchased the land, you'll need to finance it as well. Not all lenders offer construction loans, so do your homework. Exceptional credit is usually a must as well.
Don't jump in without researching builders and architects. Some buyers choose a builder who can help them find a great architect; others go about it the opposite way. Some custom home builders work on a design/build basis, meaning they handle both the design and build of the home. It's important to interview both builders and architects, have them show you some of their work, even refer you to previous clients so you can learn more.
Consider the community. How will the neighborhood affect you should you ever decide to sell your custom home? When you intend to build a custom North Texas home it's important to consider resale value and what the other homes in the neighborhood are valued at. What you want is to remain consistent with other homes in the area in terms of size and price. This will help you avoid problems if you should decide to sell in the future.
Avoid potential delays and going over budget. When building a custom home, planning every aspect of it from the roof to the foundation beforehand is smart. By knowing what materials you want (floors, countertops, cabinets, even lighting fixtures and faucets) you can avoid costly change orders and reduce the likelihood the materials you want included in your home will be out of stock, slowing down the building process.
Careful, meticulous planning and choosing a trusted, reputable team of builders will make it possible to fulfill your dream of a beautiful custom home without all of the hassles and interruptions!
At Bud Bartley Family of Builders, we not only build spectacular custom homes in the North Texas area, we're dedicated to helping make the process as easy as possible all along the way.