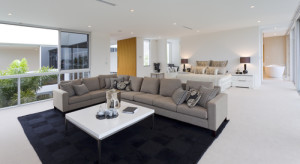 If you're planning to have a custom home built in the Dallas-Ft. Worth metro area and you currently own your own home, you know there will come a point that you have to sell. Sometimes a home sells quickly, other times you think it will never sell. One thing that's important when trying to sell a home is "depersonalization." In other words, you want to remove the personal stuff that makes your home so special to you!
Why? It's tough for buyers to picture themselves in a home that's packed with the personal items of other people. If you're intending to build a custom home, or even purchase an existing custom built home that's never been lived in, we have a few tips to help you make your current home more appealing to potential buyers.
Choose natural colors for the walls. Sand, antique white, stone shades, bisque – neutral colors are best. Sure, your daughter loves her pink bedroom, but buyers are turned off by wild or bold colors. A neutral palette will make it easier for them to picture their own furnishings in your home.
Remove names. Perhaps you have "The Brown's" hanging on a plaque beside an entry door, or your children have their first names crafted in wood plaques hanging on their bedroom walls. Any decorative signage with your family's names on it should be removed.
Everyone loves displaying family photos, but when it comes to pictures, picture it gone! Whether on the walls or sitting on tables or shelves, family pictures make it really hard for a buyer to imagine creating his or her family's own memories. Pare it way down to just a couple of pictures if you can't bear to remove them all.
Clear the clutter. You've probably heard this one before, but clutter can kill a potential sale. All of the kids' art and drawings hanging on the fridge, small appliances all over the kitchen counter tops, magazines scattered about the family room, mail piled up on the desk in your home office – put it all away.
What you want is a clean, uncluttered home that a buyer can just picture his or her family in. By removing the personalization and cleaning away the clutter, your home will sell more quickly!
At Bud Bartley Family of Builders, we've been in the custom home building business in the Dallas area for decades. When you want a builder you can trust for quality materials and exceptional workmanship, trust our team of homebuilders!