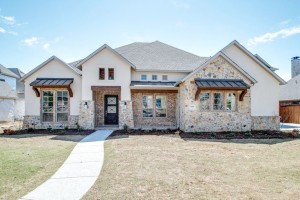 Building a custom home in Dallas, Highland Village, or any upscale community around the DFW metro area is one of the most exciting times of your life. Although it can be stressful, building your dream home is also a lot of fun – and the anticipation is almost more than you can bear! What will you do on the inside to make your new home comfortable and stylish? Striking the perfect balance between the two isn't that difficult when you choose transitional design.
What is transitional design? According to Wikipedia, also referred to as "updated classic," transitional style is "classic with a contemporary twist." Essentially, transitional design pairs traditional and contemporary in both furniture and interior design. The design is timeless, yet sophisticated.
Transitional design relies on neutral colors such as tan, taupe, vanilla, and dark shades of brown that evoke a clean, peaceful atmosphere. Because of the lack of bold colors, fabrics make up for it by incorporating rich textures such as nubby chenilles and corduroy along with leather and soft ultrasuedes. Accessories are kept to a minimum to maintain the clean, uncomplicated look and may include silver accents such as candleholders and picture frames, along with wood accents.
Many homeowners building custom homes in North Texas choose transitional styling as the look balances feminine and masculine attributes by combining straight lines and curves. The design is best described as simple yet sophisticated. This is a design that homeowners enjoy for years if not decades, one that never goes "out of style."
At Bud Bartley Custom Homes, we understand that designing the interior of your new home can be challenging. By being in touch with your own personal style, you can create a look that is unified, comfortable, and inviting to all who enter.
Contact our team of highly skilled craftsmen today if you're considering a custom built home in the Dallas area! We've been building the finest quality homes in North Texas for more than three decades.