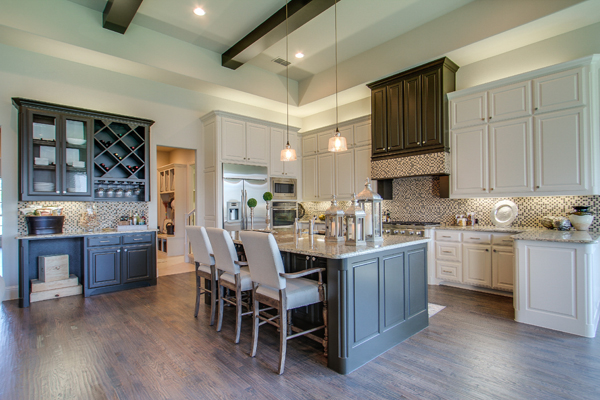 As reputable Highland Village custom home builders, we know that part of the fun of building a home to your own specifications is being able to design a fabulous kitchen. Today, many families spend more time in the kitchen/dining room area than they do in the living or family room! Whether preparing a home cooked meal, doing homework, or playing a game of cards, kitchens aren't meant solely for meals these days. They're multi-functional, and the most important room in the house when it comes to buyers.
So, how can you make sure the kitchen in your new Highland Village home lives up to your expectations? Here are a few tips.
Work with a professional. Experts who focus on interior design know where to locate appliances, sinks, ovens, and other items so that they are most convenient and functional. Your lifestyle also dictates how your kitchen is designed. For instance, if you're more of a wine enthusiast than a gourmet chef, your top priority may be a built-in wine rack rather than a double oven. An expert can work with you to ensure your kitchen is beautifully designed and functional.
What shape? Depending on the square footage of your home, you may decide on a galley kitchen, or one that is U, L, or G-shaped. A designer can explain these common layouts, and help you determine whether an island is a good choice for you as well.
What features and amenities do you desire in your kitchen? Do you love today's custom cabinets designed to hide refrigerators and other appliances? Today, you can find cabinets that include pull-out drawers hidden inside, self-closing drawers, and more. The materials you choose for countertops may determine their durability and lasting beauty; flooring is a key element in design, pulling the look together. Regardless of whether you choose a country, modern, or contemporary design, all of the elements of the kitchen work together to create visual appeal and a comfortable living space.
While building a custom home in Highland Village or other prestigious communities in the Dallas metro area takes a substantial amount of thought, planning, and consideration, it can be a fun and exciting process as well. At Bud Bartley Custom Homes, our goal is to create the home of your vision, one you will love as much in 20 years as the day you moved in. Give us a call today, and enjoy peace of mind knowing you've chosen the very best!