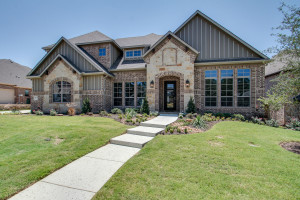 Of course there are many details when it comes to building a luxury custom home, but perhaps one of the most important is the front door. It is the entrance to your home, and can be a very important focal point – not to mention the first impression many people get when entering your home.
When deciding on a front door and the exterior space that surrounds it, there a several important elements to keep in mind. Some of them include:
Design. From simple to elaborate, entrance doors may have panels, side panels, window transoms, or even windows set into the door itself. Your own personal preference and the style of your home are what determine these choices.
Material. It's important to choose a material that's durable and weather resistant, as your exterior doors will be battered by rain, sleet, perhaps hail, and the extreme hot/cold temperatures.
Color. Whether to blend with the exterior of your home or contrast with it and make a bold statement, the color of the door you choose is important, and depends on your own personal tastes.
Hardware. There are hundreds of choices when it comes to those "small details" that are so important such as door knockers, the door lever or handle, even a mail slot.
Framing materials. Framing your entrance door should be approached as though you were framing a piece of art – you don't want the frame to overwhelm the door, and there are many materials to use in framing including stucco, brick, wood, stone, etc. The pattern your choose can be simple or elaborate. Again, keep the style of your home and your own personal taste in mind.
Who knew that doors could be so complex? The front entrance door is the most important door on your custom home, so be sure you have all of the details right.
At Bud Bartley Custom Homes, our custom home builders bring more than 35 years of experience to the table for those who desire a beautiful front entrance for their dream home. Give us a call today, and rest assured you get nothing less than the best with our team of skilled craftsmen.