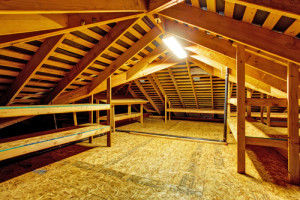 For many homeowners, the attic is an unfinished space that usually contains boxes, old pictures or furniture, and of course some dust and a few cobwebs. If you're considering building a custom home in the Dallas-Ft. Worth metro area, you may want to rethink the attic. It's such a useful space when finished – and the new ideas and trends for today may surprise you. Why not make the most of your space?
When you want some additional space, most homeowners' thoughts go immediately to the basement, if you have one in your home. When finished out, an attic can be a beautiful, functional space your family will enjoy. Here are a few ideas:
Recreation or kids' room. Add a pool table and big-screen television for a cool rec room, or if you're tired of the kids' toys being scattered all over the family room, consider transforming the attic space into a playroom. They can have all of their toys, electronics, and gadgets in one space – and you enjoy a home without toys and constant clutter in your other living spaces.
Make it your own quiet haven. On the other hand, you may want to turn your attic into a sanctuary where you can escape the kids for a while! Fill it with artwork and colors you love, an armchair or small couch, shelves containing books by your favorite authors, or anything that makes it possible for you to enjoy some quiet/alone time.
How about a home office space or guest bedroom? If you work from home, it's nice to have a place you can really escape to – and at the end of the day, you can really put work to bed by simply closing the door. If you have family or friends over occasionally, the attic can make a wonderfully cozy space for a guest room – your guests will enjoy a true feeling of privacy, and they won't have to sleep on the sofa.
It may be hard for you to imagine, but an attic can be a beautiful and unique space when finished. Why waste it?
At Bud Bartley Family of Builders, our talented team of builders create truly custom homes your family will fall in love with over and over again. If you're considering a custom built home in Flower Mound, Highland Village, or any outlying Dallas suburb, trust us to go beyond your expectations.