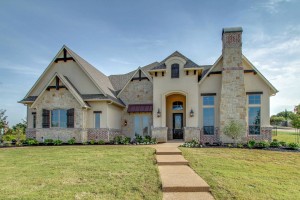 You've dreamed of building a custom home in the North Texas area, even thought about the layout, colors, flooring, exactly how the kitchen will look when it's all done, etc. It's certainly an exciting and fun prospect, but what you don't want is to regret a choice you made a few months after it's all said and done. The kitchen is the area homeowners are typically most concerned withtake into consideration your family's size and needs. For instance, if your children are grown and it's just you and your spouse, you may not need tons of cabinets or storage space. If you're passionate about cooking and have a large family or entertain a lot, you may want two ovens. It's all about your lifestyle!
When it comes to the layout of your kitchen, carefully consider what you like and don't like, and take notes. Perhaps you've lived in a home where there was hardly room to get around the dining room table, or you wished you had an island for preparation. Maybe the sink was located too far away from the stove. Think about what you love about family members' or friends' kitchens, and what features you don't care for at all. Perhaps you'd rather not have an island if you want your kitchen to look large and open, or you'd love an open floor plan where the kitchen flows seamlessly into the living or family room. It's vital to think about these things.
Where should appliances and sinks be located? This is a big one. Most homeowners don't want to have to cross the entire room from the sink to the dishwasher, and you may want at least one sink placed in front of a window looking out on a beautiful view if you spend substantial time there. Again, look at the positives and negatives when making each decision, and what would make your kitchen function most efficiently.
Colors and lighting. There are workspaces in the kitchen where you'll want bright or "task" lighting, and others where you may want more subtle lighting. Depending on the colors you choose in cabinets, flooring, and walls, each type of lighting will give the room a different look. If you choose mostly darker colors, how dark will the room look when all you have on is the recessed lighting? With light colors, will bright lighting make it too bright? Getting the right mix of color and light is important to how your kitchen looks and feels. You can actually layer the light in your kitchen by mixing up fixtures, giving you more control over lighting.
These are just a few things you want to keep in mind when designing the kitchen of your new Flower Mound custom home. The last thing you want when you've put so much time, effort, and money into your dream home is regret!
At Bud Bartley Family of Builders we know the importance of careful consideration and getting every little detail right. Our Dallas custom home builders are ready to help and provide our decades of knowledge and experience so that you have no regrets! Contact us today.