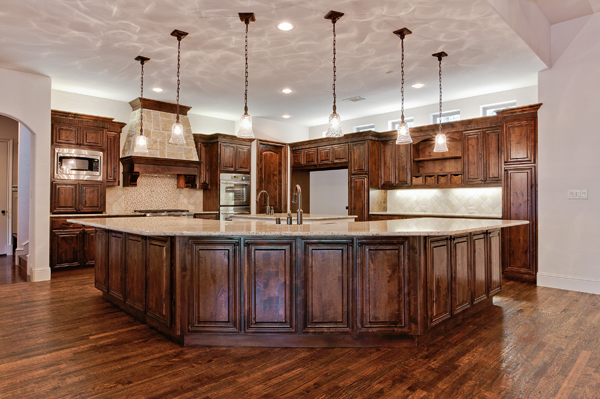 As trusted Dallas custom home builders, the folks at Bud Bartley Family of Builders know that the kitchen is a room where the family spends a considerable amount of time. When you're chopping ingredients, measuring, and cooking foods it's important to have the right lighting. Many homeowners have a desk tucked away in a corner of the kitchen where they can make a grocery list, talk on the phone, or jot down notes on the kids' activities calendar.
If you are planning to build a custom home in Flower Mound, Highland Village, or nearby communities in the Dallas area, carefully consider your kitchen lighting needs before construction begins. There are so many choices including halogen, recessed, under-cabinet and task lighting, even pendants and chandeliers – it can be overwhelming! Here are a few tips:
Consider how you use your kitchen day-to-day. How often you do certain tasks and what tasks you use your kitchen for will determine whether you need a substantial amount of natural lighting, task lighting, or under-cabinet lighting. Also think about which specific areas (island, sink, a certain area of the countertop) you will use frequently.
Will you have an informal dining area or a bar with stools for casual meals? If so, you want to consider ambient and accent lighting as well. If you intend to include a formal dining area, you may want recessed lighting or a chandelier.
If yours will be an eat-in kitchen, you may want to think about the installation of a dimmer to control brightness. There are times when you need more lighting than others, such as on cloudy days or in the evenings during seasons when it gets dark earlier. At other times, you may prefer more tranquil lighting. A dimmer allows you to control brightness, and save on energy costs as well.
The right lighting can make all the difference in the ambience and atmosphere in your home, even in the kitchen. Carefully consider your options when building a custom home in Dallas!
At Bud Bartley Family of Builders, our North Texas custom home builders are dedicated to outstanding quality in a distinctively beautiful house your family will enjoy coming home to at the end of the day.