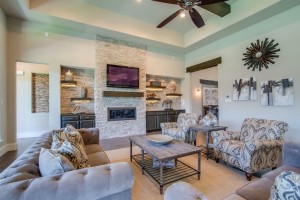 Many couples or families who are thinking of building a custom home in Dallas know what they want, but simply can't afford it all at once. Not to worry – there are some options when it comes to the family room so that you can afford it now, and upgrade later!
When you decide to have a custom home built, it's natural to worry that once it's done, it's done – for good. This isn't necessarily true, as there are many features in a family room that can be upgraded at a later date such as flooring, a fireplace, built-ins for televisions and other electronics, entertainment centers, and more. Here are our suggestions if you have your dream family room in mind, but aren't sure you can afford it in the immediate future.
In terms of flooring, there are several options including hardwood, laminate hardwood, carpeting, etc. While carpet is usually cheapest, keep in mind it will wear and need replacement in a few years. Site-finished hardwood is more expensive initially, however if cared for properly it may last a lifetime. Laminate and quality engineered hardwood can cost even more than site-finished hardwood, so keep all of this in mind. Most important is determining what is best for your budget now, and in the future.
A fireplace is a must for many homeowners, however you don't have to create a super-elegant fireplace initially. Most homeowners choose a fireplace because it's a focal point and creates a cozy, warm atmosphere; warmth really isn't a big factor. The most important thing to remember is your builder will need to frame out the fireplace and vent it in the initial building stages. You can add stone, brick, or other materials to make your fireplace more striking at a later date.
Built-ins and entertainment centers make a room super-appealing, however if you can't afford a furniture grade built-in with bookshelves, cabinetry, and special cubbies for your various electronics and television, your custom home builder can do some framing so that you can add these features later on. Keep in mind the installation of outlets where you may need them in the future, and a standard width alcove rather than a non-standard wall length to allow for cabinetry/shelving options you may want at a future date.
When building a custom home in North Texas or anywhere, for that matter, there are aspects of a home that are flexible, which means you don't have to settle for less than you've dreamed of permanently – only until your budget allows for the changes.
At Bud Bartley Custom Homes, we work personally with clients to ensure our builders are always on the same page as you. Our goal is to provide you with a luxurious, quality custom home that goes beyond your expectations!