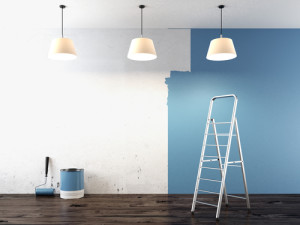 Even if you have a professional building a custom home for you, you may want to save money where you can. One of the best ways to save is to do some or all of the painting yourself, as painters often charge a pretty penny and you can do it "on the cheap." But how to do it so that it looks like a professional job? We have a few DIY painting tips we think you'll find helpful.
Make sure you do the prep work. Even when your home is brand new, it's important to wipe down or brush off the walls to ensure a clean surface. Sawdust, dirt, pollen, or other particles can accumulate even when the home has never been lived in, so be sure to get it clean before you make the first brush stroke!
Should you use a drop cloth or plastic sheeting? While it's better to use plastic than nothing at all, a drop cloth is preferred because of its ability to soak up any splatters or spills, and it protects your surfaces. Plastic doesn't absorb spills, and it's also slippery. Plus, you have the added risk of transfering that small drop of paint that you accidentally stepped in to those beautiful hardwood floors. If you have a choice, there's no question – drop cloth.
Do you have to prime? Not necessarily. Today, many of the most trusted paint manufacturers have products that do the work of both. Do be aware that you'll probably need to apply two coats for a smooth, even finish. If you're opting for darker walls, you'll probably need a primer, but have it tinted at the home supply store so you'll only have to apply a single finish coat.
Don't be cheap or skimp on quality. If you choose a low-quality paint to save a few bucks a gallon, you'll pay for it in terms of the paint finish. Cheap paint usually contains less pigment, so go for a high-quality paint – you can save on ceiling paint or areas you'll paint white, as this color paint generally has fewer (or no) pigments. Whether neutral, light, intense, or dramatic, interior wall paint should be of high quality.
You can save a few hundred bucks by painting your custom home yourself, although it's one job few homeowners really enjoy. If you don't mind the work involved, go for it!
At Bud Bartley Family of Builders we build quality, eco-friendly custom homes in Flower Mound, Highland Village and other upscale communities. Our experience and results speak for themselves, so give us a call today!