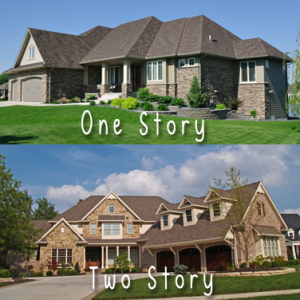 If you're considering a custom built home in Highland Village or any prestigious suburb in the Dallas area, your biggest decision may be whether to build a one- or two-story home. For some people, the size or shape of a lot makes the decision, as you can only expand so far when space is limited. For others, a two-story home is a dream come true, somehow more charming or dramatic. There are advantages to both, which we will cover in this article.
What are the benefits of a two-story home?
The most obvious is that you can incorporate a sense of drama or intense architecture into your home. A second-floor balcony is certainly dramatic, and nothing is more beautiful than columns, arches, or a sweeping curved staircase.
For most families, children's bedrooms or playrooms are the messiest or contain the most clutter. With a two-story home, you never have to worry about guests seeing these cluttered rooms when on their way to the bathroom or kitchen, as the spaces in the home are more separated – you enjoy an added sense of privacy.
In some cases, a two-story home can be more cost-efficient in terms of space.
Potential drawbacks of building a two-story home
Those who are older often have problems such as arthritis or back issues which may make navigating stairs difficult, or even impossible. Even if you're in perfectly good health and young, think about certain tasks (laundry, vacuuming, etc.) and if going up and down stairs multiple times a day will work for you.
Another disadvantage of a two-story home is that plumbing problems, such as an overflowing toilet or bathtub can result in damage not only to the floor of the bathroom, but to the ceiling of the first floor as well. However, this is a rare problem for most homeowners.
Truly, whether to build a one- or two-story home is really a personal choice, unless the size of your lot limit your options. Considering the design options and technology available in today's homes, it's simply a matter of preference.
There's a lot of flexibility when it comes to building your own custom home – to where it doesn't make much of a difference if you choose a one- or two-story home. Incorporating green technologies in the construction of your home can reduce energy costs, regardless of the size of your home or whether it has multiple levels. Whether you decide to build a smaller or larger home that is a single level or multiple, aesthetic details such as arches and balconies can be included. More safety features are available today than ever before for those who choose to build a home with two or more stories.
At Bud Bartley Custom Homes, we understand that when building your dream home, you want every last detail to be perfect – and you never want to regret the choice you made! If you're considering a custom built home in Highland Village, put your dreams in the hands of master craftsmen who take extreme pride in the results we deliver.