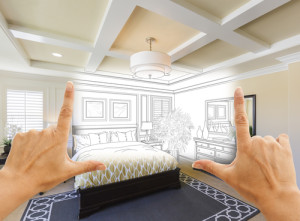 A bedroom is more than a place to sleep; it's your sanctuary at the end of a long, stressful day. This is the one room of a home where you can actually find peace and quiet – and relaxation. If you're building a custom home in North Texas, there are a few "essentials" you should consider when it comes to the design of your bedroom.
First and foremost, make your bed a true place of rest. Invest in a pillow top, memory foam, or adjustable bed so that you have the ultimate in comfort and get the best night's sleep. Also consider the frame you choose; it should be one that suits your sense of style and makes you feel good. Down comforters, high thread count sheets, chenille blankets – add texture and color to make your space welcoming and cozy.
Store it in style. A walk-in closet with plenty of space for all your shoes and clothes, a big dresser for storage of shorts, t-shirts, socks, underwear, and other essentials. Most people get ready for work or social occasions in the bedroom, so store your clothing in style!
Relax and unwind. Sometimes you don't want to hop right into the bed when you go into the bedroom; you want to relax and unwind, ponder the day's events. Design a space within the bedroom where there's ample room for a club chair or love seat, a floor lamp, a nook to store your favorite books. Imagine enjoying your morning coffee in such a cozy space, rather than a noisy and hectic dining room or breakfast nook!
Think soft and warm when it comes to floors. It's certainly fine to have hardwood floors in the bedroom, but you'll want to add some plush, colorful throw rugs to each side of the bed so you step out on comfort at the beginning of the new day. This is another great way to add texture to the bedroom.
At Bud Bartley Family of Builders, we know you have a lot to think about when it comes to your dream home. The master bedroom is one of the most important rooms in the house, so consider every aspect carefully! For all of your custom home building needs, count on our skilled craftsmen to exceed your expectations.