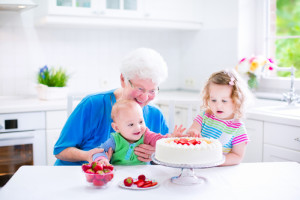 The term "aging in place" has become quite common as baby boomers and seniors, a large segment of the population, choose to remain in their own homes as they grow older. What does this have to do with building a custom home in Flower Mound or anywhere in the Dallas Metro area? Plenty! Through thoughtful design you can build a home that meets your needs both now, and in the future as you grow older.
Safe, independent living means a home that reduces the likelihood of falls and injuries. At some point in the future you may need to use a wheelchair or walker. While you probably don't want to include a wheelchair ramp initially if you're young, you do want to consider putting the infrastructure in place now so that making a change in the future will be less complicated and costly.
A few things you can do now when designing a custom home, so you don't have to make changes in future years, include:
A master bedroom with full bath on the main level of your home. Two-story homes or those with multiple levels are popular, but think about how you'll navigate around when you're older. By placing the laundry room on the main level, along with a master suite and full bath, you can avoid climbing stairs or stepping up two or three steps to another level – and coming down those stairs or steps, as well.
Hallways and doors that are at least three feet wide. This is something you can do now that will pay off big time later! Wider halls and doorways not only make for easier navigation with a walker or wheelchair, it's also much easier to move furnishings and appliances in or move a sofa or other large piece of furniture to another room later, if you so choose.
The bathroom – a potentially dangerous room for seniors. Slippery shower floors, climbing over tub walls – bathrooms can be dangerous. When building your custom home, consider a shower that features not only a seat, but one that's zero-entry. This simply means no stepping up or down to enter or exit the shower. In later years you may want to install grab bars or handles to assist with getting up/down or standing, so be sure to have anchors installed in the proper places behind walls or shower tiles so that you won't end up facing extensive remodeling and tearing down of walls later on. When it comes to remodeling a bathroom, you're looking at a huge expense. Take the time now to prepare for the future.
It's understandable that as we grow older, we don't want to face the possibility we may have to move out of our dream homes. Take time to consider how your home will serve you when you're 65, 70, or older and you can build a home that's perfect now, and perfect decades from now!
Bud Bartley Family of Builders builds custom green homes in Flower Mound and other upscale communities in North Texas. We're happy to help when you need input or guidance, and believe in working one-on-one with our clients to achieve the home of your dreams for now, and in the future.