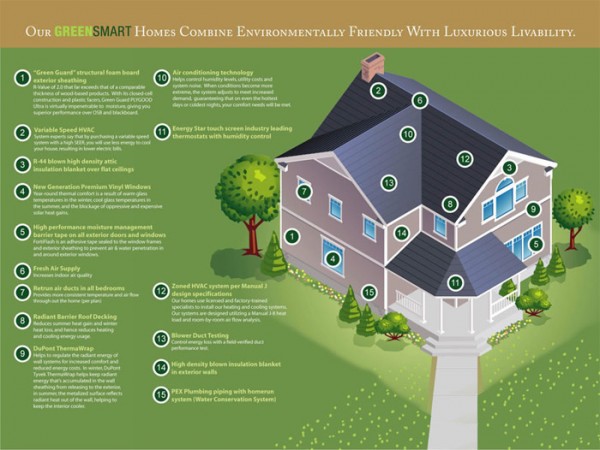 If you're considering a green Highland Village home, chances are you're a bit curious about some of the aspects of a green home if you have not built or lived in one before. Having radiant barrier roof decking installed in your home can substantially lower your energy costs by reducing summer heat gain. You probably already know that the attic of a home becomes extremely warm during the summer months; in fact, temperatures in this area can go above 150 degrees. How does radiant barrier roof decking help to keep your home cooler, and lower your energy costs?
How it works
Essentially, radiant barrier roof decking absorbs a substantial amount of heat that transfers from the roofing material to the attic surface. Temperatures in the Dallas area typically soar in summer months, and radiant barriers are most effective in hotter climates. Research has shown that energy costs can be lowered by as much as 10% when a radiant barrier is installed.
Proper installation is important
It's important that you choose an experienced green homebuilder in Dallas who is familiar with the proper way to install radiant barrier roof decking. While these barriers may be installed in existing homes, installation is much easier in the process of building a new home. There are various types of radiant barriers, some of which include foil-faced plywood.
Types of radiant barrier roof decking
Most radiant barriers consist of a reflective surface, which helps reflect the heat of the sun back up, away from your home and attic. While it may sound a bit strange, these products are similar to aluminum foil and help reduce attic temperatures by as much as 30 degrees. Some of the different types available to green home contractors today include:
Reinforced sheet radiant barrier material
Applied to roof sheathing
Not only is radiant barrier roof decking recommended to keep attic spaces cooler, it's also a good idea to install in areas that, without it, may be "unusable" spaces, typically those spaces with unconditioned air. These areas include workrooms, garages and porches.
At Bud Bartley Homes, we like to share our "GreenSmart" education with those who are considering a green home. The more you know, the better you will understand the advantages of building a green home, both in terms of quality and energy savings.