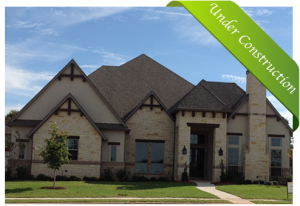 Whether you're looking at a production home or a custom built home in the Dallas Metro area, you're getting a new home. The question is, what's the difference? Many people are not sure what makes a custom home different from a production home, so we'll help you out by explaining.
First of all, some builders do both – and it's really all about the level of personalization and building a home that meets your family's needs in every way.
What are production homes? Essentially, these homes are often found in developments or neighborhoods that seem to be going up all at once. You may see a dozen homes on a couple of streets in a neighborhood, all of them at some stage in the building process. Usually there are a handful of floor plans and different elevations so that the homes don't take on the "clone" appearance, and the community looks visually more interesting. In this situation, you may have the exact floor plan as one of your neighbors; however, you do have the freedom to pick out certain things such as cabinets, flooring, or countertops from what the builder has to offer.
True custom homes are exactly that – custom all the way. From choosing the floor plan and room sizes to choosing the finishes you want without the limitations of the builder's "fixed" selection – everything is done according to your preferences. Many who build a true custom home work with both a builder and an architect, or a design-build company who will build on your lot or in a newly constructed or existing neighborhood.
It's important to keep in mind that when it comes to one of the largest investments in your life, you want a home that truly is your "dream" home – one that's comfortable, functional, and meets your every need. At Bud Bartley Family of Builders, our team of North Texas custom home builders are committed to helping you see your dream come true! Whether you're interested in one of our move-in ready upscale homes in Flower Mound or are looking to build on your own lot, you can trust us our family of builders to go beyond your expectations.