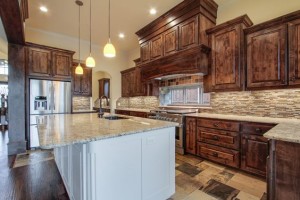 If you're thinking about building a custom home in Flower Mound, chances are you've run through what your dream home will look like in your mind hundreds of times. From layout and room size to materials, finishes, cabinetry, and flooring, you may think you have it all planned out perfectly – but do you, really? Here are five mistakes you want to avoid when having a custom home built.
Plan your space wisely. This is especially true of closets, as you want them located conveniently. Each bedroom should have its own closet, and perhaps an extra closet in a hallway where you can store bed linens, extra pillows, luggage, and other items would be convenient. Also think about that huge walk-in closet you have planned for the master bedroom; could some of that space be more useful in the bedroom or master bath? Good space planning is important.
Lack of lighting. This is an area where many homeowners are dissatisfied, as most people like lots of light, whether natural or artificial. A lack of windows, outlets, and light fixtures can literally leave you in the dark, which can be depressing. Make sure there are plenty of outlets, lots of windows to let natural light in, and maybe even a skylight or two.
Is the laundry room off the kitchen? This may be fine if the bedrooms are located nearby, but maybe not if bedrooms are located at the other end of your home. By placing the laundry room in close proximity to bedrooms and baths, you save yourself a lot of extra steps and effort. Many people think they'll love an upstairs laundry room, only to find out it's not so convenient after the fact.
Where is the kitchen? Think about all the groceries you'll be toting in every week. Do you really want to walk through the entire house to set your bags on the counter for unloading? Probably not. The kitchen is most convenient when located near an entry door (back door, garage, etc.) while also being central to the living/dining areas.
Do you know what size HVAC system you need? This one's important, as a system that's too small won't heat/cool your home properly, and will run almost constantly trying to keep up – which means huge energy bills. An HVAC system that's too large will also consume a lot of energy. To avoid moisture problems, the growth of mold, an uncomfortable home and high energy bills, make sure your HVAC system is the proper size for your home.
At Bud Bartley Family of Builders, our Flower Mound custom home builders want to make sure that what you thought was your dream home doesn't turn into a nightmare. Trust our team of expert builders to help ensure your dream home is truly what you have envisioned.