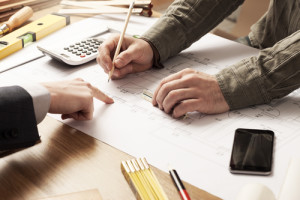 If you're considering a custom build home in Highland Village or any upscale community in the Dallas-Ft. Worth Metro, you may be curious about price per square foot, and what that cost covers. On average, the cost per square foot will fall in the $100 to $150 per square foot range, but this isn't set in stone. So, what factors impact how much you can expect to pay?
The final cost of your custom home will depend on size; whether it's one story, two, a split-level, etc., the shape of the home (the more corners, the higher the cost), what type of roof you choose, countertop finishes, cabinetry, fixtures, flooring – the list goes on and on.
Determining the final cost per square foot is a simple calculation; simply divide the total square feet into the overall cost of the home as calculated by the builder. However, it's important to look at the big picture, and not base your decision on price per square foot alone!
What do builders factor in when setting the total price for a home?
Materials, which include framing materials, plasterboard, flooring, sheetrock, and all of the components necessary to build a home. These basic or "standard" materials give you a rough idea, however additional design elements will need to be factored in as well.
Type/design of home. Naturally, multiple floor homes are a bit more laborious than single-level homes, so it influences the cost. Special features such as columns, dormer windows, an outdoor patio/kitchen, or a more complex roof design add to costs.
Quality workmanship. Anyone who's considering a custom home demands quality workmanship, which generally adds to the cost. No one wants to build a home only to find later that the workmanship is shoddy! A home is your biggest investment; you don't want drafts coming around windows, a home with inadequate insulation, or other problems. It's critical to choose a Dallas custom home builder with experience, one who is dedicated to exceptional quality and customer satisfaction.
It's impossible to put an exact figure on cost per square foot when building a custom home, because there are so many variables. If you're considering a custom built home, rely on Bud Bartley Family of Builders for the ultimate in quality, design, and workmanship.