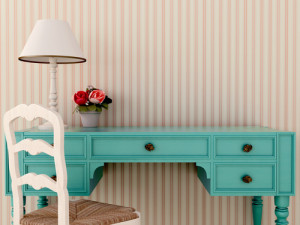 Many people think wallpaper is outdated, out-of-style, something no one does today. The fact is, wallpaper made a huge comeback in 2015, and this year it's hotter than ever! When you think of wallpaper for your new Flower Mound custom home, images of runny glue and a sticky mess may come to mind – and taking it down? Forget about it! If these are the images that go through your mind when considering wallpaper, you'll be happy to know things have changed dramatically since the 70's and 80's!
Both interior designers and homeowners are looking at wallpaper in an entirely different light today. Because it comes in so many designs, colors, and textures, it's a great way to add a luxurious or classy element to your rooms and it's a wonderful alternative to paint. From wallpaper offering the look of natural surfaces (wood, etc.) to retro geometrics, matte and metallic patterns, and sweet pastels, you can create literally any look you want in any room of the house.
Today there are literally hundreds of designs, color combinations, patterns, and textures to choose from. Mix and match to create a look that's unique, or even consider those that replicate quilted fabrics or snakeskin. The point is, the possibilities are endless. Creative complex designs are possible today thanks to advances in digital imaging, so if you haven't taken a look at wallpaper in a decade or two, you may want to rethink your options!
If you're thinking wallpaper is permanent and wondering what you'll do if you find you aren't crazy about the look once it's applied, no worries. For those who are afraid to commit, there are wallpaper options available that make it possible to apply temporarily using special adhesives. Ultimately, playing around with all of the texture, design, and color options can be fun – and you can create some truly one-of-a-kind looks. You may want to work with an interior designer to ensure the rooms of your new custom home are exactly as you had imagined.
At Bud Bartley Family of Builders, our custom home builders have been in the business of building quality, impeccably designed homes for more than three decades. When it's the biggest investment of your life, never settle for less than the best! Contact us today to learn more about building your dream home in Flower Mound, Highland Village, or Saddlewood.